Doosan has launched an update to its DX300LL log loader featuring an updated Tier 4 Final engine, fuel saving features and a huge boost in power.
The new DX300LL-5 replaces its Dash-3 predecessor and is powered by a Scania DC9 diesel engine. Rated at 270 horsepower, the engine provides a 27 percent boost in power over the Dash-3 model. With the new engine, Doosan has added an auto-shutdown feature that saves fuel by allowing operators to program the machine to shut down when it has been idle from 3 to 60 minutes.
You can view the machine's full specs in the chart to the right.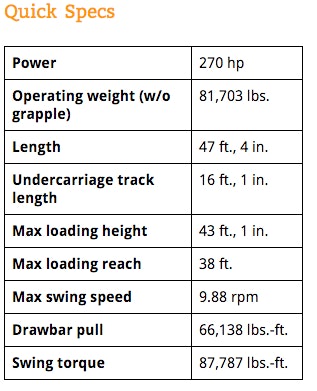 Equipped for heavy forestry and land clearing construction applications, the DX300LL-5 features a fully guarded long undercarriage and upper structure. The machine's tracks feature heavy-duty links with double grouser shoes and full-length track guiding guards.
Updates to the Dash-5 machine's design include a pattern change valve and an improved heel design that works in tandem with a log grapple. In addition, Doosan has improved the protection of the machine's front guard while adding boom cylinder, cab and rock guards.
The cab of the machine is raised by a four-foot cab riser with guarding which can be hydraulically tilted for transport.
Inside the cab is a 7-inch color display which updates operators on engine rpm, battery voltage, front and rear hydraulic pressure and more, at a glance. The screen also displays the view from the machine's rear view camera. If the optional side camera is equipped, a side-by-side display of the rear and side views is possible.
Additional options include:
LED Lights for improved night visibility
Straight travel pedal, which allows the operator to travel in a straight line more easily
Block heater or diesel-powered coolant heater for cold-weather starts
Fuel filler pump to assist in refueling when refueling truck does not have pumping system
The DX300LL-5 comes standard with a three-year subscription to the company's telematics service which allows remote monitoring of machine data such as location, hours, fuel usage, engine idle versus work time, error codes and engine and hydraulic temperatures. The system also allows Doosan dealers to respond to machine warning messages and alerts and remotely troubleshoot issues that arise in the field.