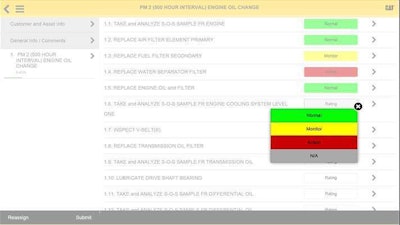 Caterpillar has released a new app for smartphones and tablets that allows owners, operators and fleet managers to remove paper forms from their machine inspections.
Dubbed Cat Inspect, the app replaces Technical Analysis (TA1) inspection forms and preventative maintenance checklists and makes starting these types of inspections as easy as tapping the screen.
Within the app, users can enhance their inspections by taking and attaching photos and typing or dictating notes. Cat adds that if users are inspecting machines with optional equipment not listed on their checklists, they can document that equipment and add the information to the form.
And because these digital forms are tied to serial-numbers, Cat says the app offers guidance specific to the machine being inspected.
Users can also comment on and add ratings to filed inspections as well as export inspections to PDF and forward them to their Cat dealer.
Once completed, the inspections generate reports lists within the app which highlight items that require attention. Important alerts are forwarded to Cat's VisionLink service giving all of a company's users a view of critical machine status updates.
Cat says its dealers and technicians have been testing Cat Inspect over the past year, greatly helping in improving development of the app. The app is the latest in a string of moves by the company in the past year as part of a strong focus on technology in efforts to empower customers with more machine data and prevent downtime before it happens.
The app is available for free on iOS, Android and Windows at the links below.
App Store (iOS)
Google Play Store
Microsoft Store (Windows 8.1 +)