After making the kit standard on other dozer models, Komatsu has announced that its Parallel Link Undercarriage System (PLUS) is now an available option on the company's D155AX-8 dozer.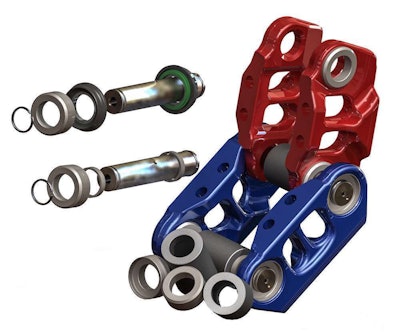 Komatsu introduced the D155AX-8 in November with a Tier 4 Final engine and a Sigmadozer blade with increased capacity. (A semi-automatic version of the dozer was released in April.)
The company's K-bogie undercarriage system comes standard on the machine, boasting its ability to keep alignment between rollers and links.
The PLUS undercarriage on the other hand is made to weather extreme wear and tear. With a rotating bushing design, the system can last up to twice as long as conventional undercarriages, Komatsu says.
The system eliminates downtime caused by pin and bushing turns and can lower repair and maintenance costs by up to 40 percent in certain applications.
"Applications for PLUS undercarriage range from high-impact, rocky ground conditions to low-impact, abrasive sandy worksites," said Chuck Murawski, Komatsu product manager.
The undercarriage is available in three different shoe widths: 24-inch/610mm, 26-inch/660mm and 28-inch/710mm PLUS ES shoes.
Komatsu's PLUS undercarriage assurance program covers leakage and breakage due to defects in material or workmanship for 3 years/4000 hours, whichever occurs first. Local Komatsu America distributors also offer supplemental wear-life coverage.