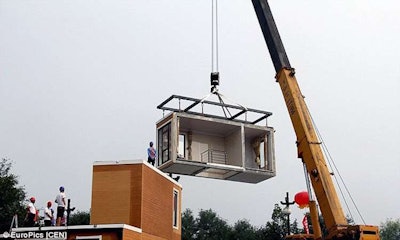 What if it were possible to reduce the process of buying and building a home to less than a day? In China, one company has quite the head start on such a disruption.
According to a report from the Daily Mail, Zhouda Group, based in Xi'an, Central China, has developed new technology to 3D print whole homes that can be assembled in under three hours. Customers will be able to order custom-made homes built with the technology online.
The group is using an unnamed material for the base of its villas instead of the cement that most construction companies when employing 3D printing technologies. The houses are built from an ink made up of a mixture of cement and environmentally friendly construction waste and claims to be stronger than concrete.
According to the company, the buildings will last at least 150 years and will withstand high magnitude earthquakes.
The printed homes cost about 3,000 Yuan per square meter, which is the equivalent to around $483 U.S. dollars per meter. The average price of apartments in China today is 36,000 Yuan per square meter, which is the around the equivalent of $5,700 U.S. dollars.
The Chinese are advancing more and more in the 3D printing industry. Another company based in Shanghai built the world's tallest 3D printed building in January that is five stories high. The four 3D printers used for this job were 21 ft. tall and as wide as a basketball court. The company is now working in Dubai to build the world's first fully 3D printed office.
It is expected that more made-to-order homes will be available with the rise of 3D printing technology being used by construction companies.