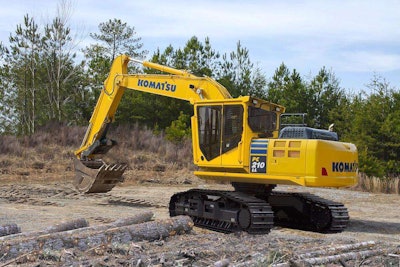 Boasting a new engine and redesigned cab, Komatsu has launched its latest log loader, the PC210LL-10.
Replacing the PC200LL-8, which had a Tier 3 engine, the new Dash-10 machine is powered by a Komatsu SAA6D107E-2 Tier 4 Interim engine pushing 158 flywheel horsepower. The engine provides a horsepower boost of 7 percent over the Dash-8 machine and decreases fuel consumption by 10 percent.
A hydraulically actuated variable geometry turbocharger and exhaust gas recirculation (EGR) allow for precise temperature and air management control. The machine's integrated diesel particulate filter manages emissions and provides status updates, allowing the operator to choose when and where to regenerate.
The PC210LL-10's hydraulic system reduces hydraulic loss over the Dash-8 machine and features variable speed matching which adjusts engine speed based on hydraulic pump output. The PC210LL-10 Log Loader configuration features adjustable flow controls for boom, arm, heel and grapple functions for fine tuning hydraulic response to operator preference.
In addition to the Log Loader config, Road Builder and Processor Head Carrier configs are available as well. Each carries purpose-built front equipment options. The Log Loader features a 36-foot-reach live heel forestry boom with a 52-inch opening grapple or two types of 34 foot Butt-N-Top forestry booms.
The Road Builder, features an HD boom and HD arm with one actuator piping for application versatility. A special boom/arm arrangement without bucket cylinder and linkage is available for the Processor Head Carrier configuration.
The machine also features a redesigned cab built specifically for forestry applications that is ROPS/OPS/FOPS/TOPS/FOG/WCB/Oregon OSHA certified. Inside, operators will find a high-back, adjustable seat that is air suspended and heated. There's also a 7-inch color LCD monitor which gives the operator access to six working modes: Power, Economy, Lifting, Breaker, Attachment Economy and Attachment Power.
Fuel consumption history, efficiency data, the view from the standard rearview camera more can be viewed from the monitor as well.
The cab is available with a 48-inch hydraulic tilt or a 7-inch fixed cab riser and has two 12-volt ports and an auxiliary input to connect external devices.
The PC210LL-10 is equipped with the company's telematics system, Komtrax, which allows operators and fleet managers to keep up with the machine's fuel levels, operating hours, location and gives you cautions and maintenance alerts via a website or a smartphone. Additionally, Komtrax now monitors DEF levels, ambient air temperatures and pressures.
Komatsu CARE is provided on the machine for the first three years or 2,000 hours, and includes scheduled factory maintenance, a 50-point inspection at each service, and two DPF exchanges and DEF tank flushes in the first five years.