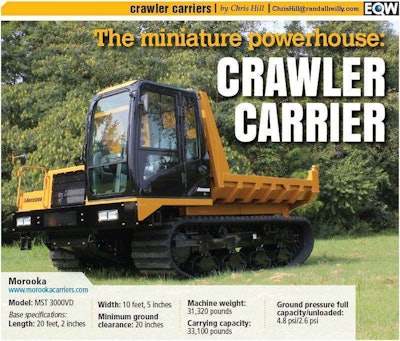 Many folks worth their salt live and work by the edict that you must have the right tool for the right job. And rightfully so: But many a good idea and great tool have been borne from situations when the right tool just wasn't available.
What is available now for jobs requiring a gentle touch on the landscape and hard-to-reach sites is the crawler carrier. While they seemingly serve a small niche market within construction, they are being used in a growing variety of industries and applications, including oil and natural gas exploration, mining, forestry and wetland reclamation.
These machines have primarily been prized for their dump bed functions, which is why they're sometimes referred to as crawler dumpers. However, their versatility with attachments and implements, and customizability, have turned them into miniature powerhouses.
What's so unique besides the look? Well, their physical appearance alludes to one of their big advantages—their footprint. We're not talking about the sheer size, but the impact the tracks have on the soil. And it's interesting that they were once used initially to go in to an area with sensitive surfaces to place ground protection mats down on which other equipment could travel. Then it started to make sense to just simply use the crawler carriers for this work.
Bradford Clubb, president of Flyway Excavating in Lititz, Pennsylvania, is one contractor who did just that. His operation does a lot of site preparation work, in addition to waterway improvement projects such as stream restoration and dam removals. It's the latter type of work that calls Clubb's crawler carriers into play.
"We're one of a couple of players that do dam removal," Clubb says. "The applications for these machines is that they can go places you can't run a dozer effectively. They can slog through mud easily. They can go almost anywhere, and be used on steep slopes. They're so versatile, once you own them, you find them good to use for other applications."
Part of that versatility is how quickly an operator can learn to use one. "They're easy to run and very forgiving," Clubb says. "We had two kids straight out of high school working for us, and they ran them really well. They had a good routine down. What was funny is that some experienced guys got to working on them and had a little trouble because they hadn't gotten the drill down."
Flyway has two Morooka MST 2200VD models and has committed to a long-term rental of a larger Morooka MST 3000VD. "They don't sit around – you've got to get them lined up," Clubb says. "We waited two years to get the 3000."
Versatility
Versatility is the most identifiable advantage with crawler carriers.
"There aren't many types of equipment that can be converted in a matter of minutes to tackle a different part of a project. With a crawler carrier, you have that flexibility," says Monica Coenen, marketing manager for Terramac in Elburn, Illinois. Terramac has made an impact on the crawler carrier market in the past couple of years with its RT9 machine.
Coenen references the ability to add different attachments to their machines. In addition to the traditional dump bed, Terramac's RT9 can be used for several applications, including as a drill rig, bark blower, personnel carrier, vacuum excavator, tac welding, dust suppression, hydroseeder, fuel tank, pipe heating, compressor, crane and water tank. On the drawing board is a boom lift and digger derrick.
Michael Knoblett, construction equipment product manager for Yanmar America, echoes this sentiment. "Utility and versatility are the best aspect of carriers," he says. Yanmar offers some small and midsize crawler carriers, but recently has seen more interest in their biggest models.
Knoblett adds that when a crawler carrier is used for its main purpose in transporting material, and then uses an additional excavator attachment, it becomes an efficient machine. "Additionally the many specialty applications for the machine make it extremely versatile," he says.
One top feature is how little impact these machines have on the ground. A typical person has, in fact, a higher pounds-per-square-inch impact on the ground than a crawler carrier.
"They are able to operate on soft ground conditions and right of ways," Knoblett says. "Carriers can be equipped to carry tools and supplies to jobsites where other equipment cannot travel."
Demand and customer profile
Crawler carrier use is following a heavy growth pattern recently, particularly as contractors discover their usefulness. "Interest has been very steady with demand increasing over the past two years," says Jason Wasielevski, territory manager for Midlantic Machinery in Harrisburg, Pennsylvania, and Clubb's dealer. "We have been a Morooka dealer for only about four years now, but demand is growing."
Coenen echoes this sentiment.
"We've seen the interest for crawler carriers grow tremendously over the last couple years, which is no surprise considering the versatility of these units," she says. "I definitely believe the demand will continue to grow especially as new industries find uses for the machines. Currently, Terramac's largest market is pipeline work, so as domestic oil production increases so will the need for crawler carriers. In recent years rubber tracked carriers have grown to be a necessity on the right of way."
To Coenen's point, Wasielevski says their customer base comes from a wide variety of industries. "Anywhere from commercial contractors to specialty contractors that work along water have been renting," he says. "Most of our customers are moving material in areas with poor ground conditions where conventional on and off road trucks will not work. This has been very consistent with our customer base."
And as Wasielevski pointed out, most contractors are renting the machines, another similarity seen by Terramac and Yanmar.
"Rentals are extremely attractive to contractors because their work can be seasonal," Coenen says, "and any issues that might arise with a unit can be serviced by the dealer or units can be swapped out to keep the project on track. Customers have also realized the beauty of renting is that they are typically using newer equipment."
Knoblett believes that rentals continue to dominate the market for crawler carriers, because they are usually used for specific tasks.
But it's not all about the rental market. Wasielevski is also seeing growth in crawler carrier ownership. "Renters are strong but there are buyers as well."
This newly found strength in the crawler carrier market has put a stronger sense of competition in the niche market, according to Coenen. "The biggest challenge we foresee is the growing number of competitors, which is why we are building a strong dealer network to support our product line," Coenen says.
Knoblett feels that it's also a matter of getting the word out about the machines. "The largest challenge to growth in the carrier market," he says, "is dealer and customer education about the product."
The recent drop and leveling out of oil prices has led some companies in the oil field markets to cut back on production or shutter facilities, but Coenen doesn't see it as an issue. "There is always going to be a demand for oil and there is always going to be pipeline work," she says
But the versatility of the equipment is what Knoblett believes will keep the market going. "This machine is ideally suited for the utility market when paired with a mini excavator," he says. "Utility contractors, residential construction and landscapers make the majority of the customer base for this product (for Yanmar). However, customers are now seeing additional specialty application for the equipment. Carriers can transport tools and personnel to locations that are inaccessible to other types of machinery."
And with the growing need to leave as little of an imprint on the environment surrounding a jobsite, as well as doing work in remote locations, crawler carriers could be just the right tools for the task.