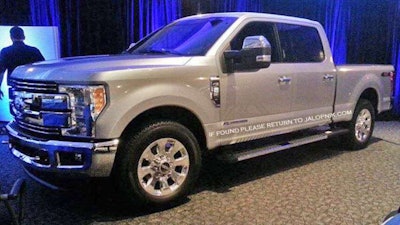 So far, the only photos we've seen of a next-generation Ford Super Duty were of a prototype of the truck exploding in flames. Thankfully, we've now got a much clearer look at the pickup thanks to the folks at Jalopnik.
The leaked photo you see above, sent to the site by a tipster, is purportedly of the 2017 F-250 and shows off the truck's updated styling to bring it more in line with the 2015 F-150.
And though the tipster didn't pass along any further specifics in terms of power or release date, we do know that like the 2015 F-150, these new Super Duty pickups will have aluminum bodies.
Ford would neither confirm nor deny the validity of the photo.
So what do you think? You can definitely see the new F-150's influence on the design, though the truck's nose is a bit longer and the chrome grille features beefier nostrils than the F-150. Let us know what you think by dropping a comment below.