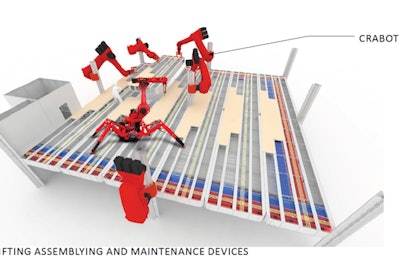 Not content to simply redefine the definition of "office space" in general, Google also plans to create a new category of construction equipment in the building of its recently-announced corporate headquarters update.
The updated campus will be defined by giant see-through canopies that, like greenhouses, house green spaces and offices that can be easily be moved around and reorganized to fit the company's needs as they arrive.
According to a report from Silicon Valley Business Journal, Google mentions "Crabots" in its development application for the campus update, describing them as, "a range of small flexible manageable cranes and robotic machines."
"These can operate from within the canopies and the Human Scale floor plates to lift prefabricated units during construction, elements of furniture and services," the document reads, according to the Journal report.
Google doesn't state whether or not any Crabots are in production or whether they're still in development, but the tech giant does say that they are built, "combining the latest crane and robot technology."
Hopefully we'll get to see these machines in action once Google begins construction on the new offices.