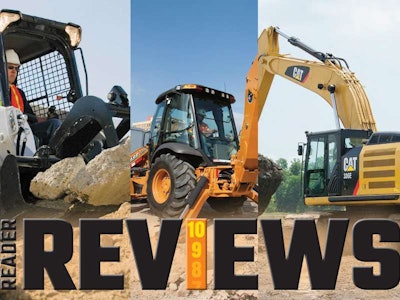 Face to face most contractors are brutally honest when they talk about equipment. But it has always been a challenge for us to get an objective consensus.
So this year we set out to get our readers, the experts in the dirt who use these machines day-in and day-out, to tell us, on a scale of 1 to 10, what they liked and disliked about specific machines. And today, after more than a year of planning and research, we're proud to launch Equipment World Reader Reviews. You can visit the Reviews page at http://equipmentworld.com/reviews.
"These reviewers are the men and women who have weighed all their options and chosen a particular machine, paying good money in order to make money. They've then worked this machine on their bread-and-butter jobs," said Equipment World editorial director Marcia Gruver Doyle.
"There's no new-cab smell here. The paint's worn off the bucket, and the floor has seen plenty of muddy boots. Our reviewers have put thousands of hours on these machines in our initial reviews—not just a couple of days running a pristine machine in a controlled environment."
Because of that, not all of the machines reviewed here are current models.
The machines we chose for this inititial round of reviews—the Bobcat S650 skid steer, Case 580 Super N backhoe, and Caterpillar 336E L excavator—were identified by our Equipment Data Associates database as some of the top selling (financed) machines in the country. We also used this database to identify owners of these machines to survey.
Two machines–the S650 and Case 580 Super N–are current models. The Cat 336E L was just replaced by the Cat 336F L. All reviewers bought their machines between January 2013 and January 2014.
While our reviewers were conservative with their numerical ratings, in their comments, given either anonomously or by name, they seemed satisfied with their purchases. Most indicated they would buy these three machines again. Interestingly, our reviewers consistently gave dealer sales, support and service, some of the highest ratings.
"Our reviewers tell it like it is; their opinions are not vetted by manufacturers. They love what they love, and call out the things they don't," Doyle said. "So many equipment reviews have the feel of typical quote from a NASCAR race winner: 'My tires ran good, my car ran great and and I'd like to thank my sponsors.' Our reviewers ultimately answer one question: after their in-the-dirt experience, would they recommend this machine to others?"
This is the first of a series showcasing reviews of heavy equipment. We'd like this to become a dialogue, and to hear what you think as an operator or owner. Let's keep the conversation going. If you have experience with any of these three machines, tell us in the comments section of their respective review pages.
You can read the first round of reviews by clicking here.