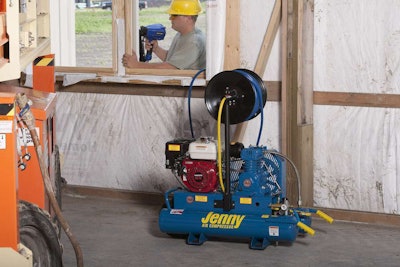 Jenny Products' four wheeled portable air compressors, the C Series, feature a 6.5-horsepower Honda engines, filling a gap between the company's 5.5- and 9-horsepower models.
The C Series compressors have single-stage pumps and deliver 9.8 cfm at 125 psi, and are available with 8-, 15-, 17- and 30-gallon air tanks.
Constructed of cast iron for maximum durability, the pums are belt driven with large flywheels that ensure easy start-ups and extra cooling. Directional air shrouds help to further reduce pump temperatures, and special unloading valves assist in starting the compressor's engine.
Standard features include a completely enclosed heavy-duty belt guard, anti-vibration feet, large canister intake filter with replaceable elements, manual tank drains, a stainless steel braided discharge hose, a pressure release safety valve and tank, regulator and outlet pressure gauges. Pneumatic tires and lifting handles aid in mobility.
Options available for the C Series include an oil-sight glass, lubricator and air line filter.