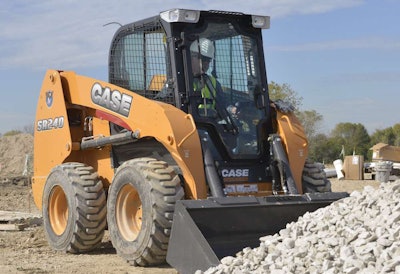 [imagebrowser id=192]
The entire Case Construction Equipment skid steer and compact track loader line is now Tier 4 Final compliant, a move that has led to a revised lineup, including the three new sizes:
  The 74-horsepower radial-lift SR240 skid steer
  The SR270 skid steer, a 2,700-pound-rated operating capacity radial-lift model
  The TR340 compact track loader
Several of the machines were on display for the first time at World of Concrete this week. "Half of our line has been Tier 4 Final for two years," says Warren Anderson, Case brand marketing manager. "With skid steers and compact track loaders, we were first to put SCR on our machines. Now we're the first to have an entire lineup of these machines that's now Tier 4 Final."
The company is using particulate matter catalyst solution in its under 74 horsepower units, the SR240 and the SV280.  A combination of a diesel oxidation catalyst and high-efficiency flow-through filter, the system is maintenance free both for first and subsequent owners, since it doesn't require an expensive diesel particulate filter replacement later in its life.
For larger horsepower machines, Case is using SCR technology, which only requires topping off the diesel exhaust fluid tank during refueling.
"With the emissions components we put a little bit of weight in the engine compartment and also used larger cylinders and counterweight, so we're giving them additional performance," says Anderson. "We're giving more benefits besides the fact its Tier 4 Final. We pride ourselves on performance specs, such as torque, hydraulic flow, bucket breakout force."
The SR240 controls have an EZ-EH (electro-hydraulic) with nine adjustable speeds that can be adjusted on the fly. New operator handles on the 2,400–pound ROC machine have detents – seen throughout the Tier 4 Final machines – that give the operator a specific reference point when the machine will move.
Case says the 90-horsepower SR270 is now the industry's largest radial lift skid steer. The 8,117-pound SR270 has 282-foot-pounds of torque and a bucket breakout force of up to 8,776 pounds. With the introduction of the SR270, Case has discontinued the SR250, although the SR270, with an additional 200 pounds of rated operating capacity is not considered a direct replacement.
Standard on the SR270 is a heavy-duty 950 CCA battery, a more robust rear door, front and side lighting, a block heater and a remote jump start.
The radial-lift TR340 weighs 10,000 pounds and has a 3,400-pound ROC, with a bucket breakout force of 8,700 pounds. The 90 horsepower machine produces 282 foot-pounds of torque and increase flow rates to 24.2 gpm (standard) and 37.6 gpm (high flow).
The new Case Tier 4 lineup also includes:
The 74-horsepower SV280, with a ROC of 2,800 pounds which uses a particulate matter catalyst to reduce engine emissions.
The 8,655-pound SV300 skid steer, rated at 90 horsepower, has 3,000 pounds ROC.
The  vertical-lift, 10,550-pound TV380 compact track loader has a ROC of 2,800 pounds and 7,510 bucket breakout force. The 90-horsepower machine uses SCR emissions technology.