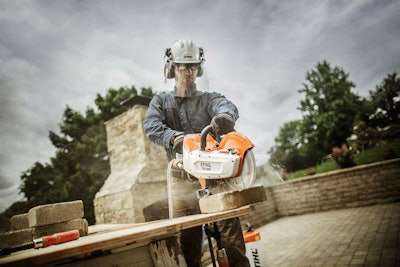 Funny thing about small gas-powered concrete cut-off saws. According to Dan Pherson, Stihl product manager, they may only get a few hundred hours of use a year yet the starter components are often activated thousands of times.
So Stihl, seeing that the starter mechanism was the weak link, developed the TSA 230 Cutquik, a battery powered concrete and masonry cut-off saw with a 9-inch blade. No starter, no choke, no carburetor and no rope to pull. Stihl introduced the saw at the World of Concrete in Las Vegas.
The TSA 230 gets its juice from a 36-volt lithium ion battery. It's lighter than gas powered saws (12.4 pounds with battery), emissions free and easier to maneuver and balance. According to Pherson, a single charge will run the saw continuously for about 15 minutes. This equals cuts through about 30 to 50 bricks and 30 concrete blocks—a typical day's work for light-duty hardscaping and construction contractor.
Dust is kept down in dry cutting applications via a vacuum adapter and depth guide, which reduces dust kick-up.
Stihl's sells it's 36-volt batteries a la carte, but these are compatible with a wide range of the company's products and are quickly powered up in about an hour using the company's rapid charger.
The saw cuts to a depth of 2.75 inches and features a 7/8-inch diameter arbor. It has an onboard water connection and a vacuum adapter for cutting in dust sensitive areas.
Also from Stihl, the new 36 GBM and 36 GBE LowStretch Chains for the company's GS 461 Rock Boss saws. Due to the abrasive nature of masonry dust, chainsaw style cutters tend to wear out the pins and holes that connect the link segments before the diamond coatings on the cutting segments are worn away.
The new Stihl chains, available in 12- and 16-inch versions, have large drive rivets and hardened, heat treated surfaces and alloys. This results in a chain that stretches five times slower than conventional chains and wears out at approximately the same rate as the diamond cutting surfaces.
Editor's Note: Senior editor Chris Hill contributed to this report.