Shortly after the New Year, we awarded Michelin with one of our 2014 Innovations awards for their Tweel airless tire. Introduced as a concept more than a decade ago, Michelin brought the Tweel to market in 2013 and made it available only for skid steers. The tire's well-documented resiliency on construction sites has made it clear that the Tweel is a true game-changer.
Despite the success of the concept, Michelin has only sold "several thousand" Tweels in the U.S. and Canada. And that's because it's all the company has "been able to produce with prototype-making equipment," according to a report from South Carolina's The Greenville News.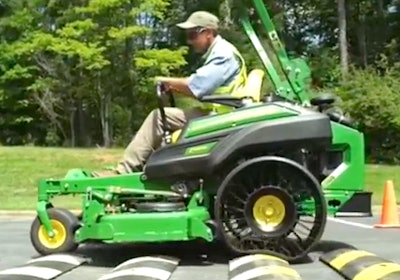 That's about to change, however, as the company has opened a plant in Piedmont, South Carolina, dedicated solely to manufacturing the Tweel.
Ralph Dimenna, vice president of Michelin Tweel Technologies, told the paper that while seeing the Tweel eventually make it to the consumer market and onto cars and trucks would be nice, he noted that it's hard to pinpoint how long it will take the technology to mature to that kind of scale.
For now, he said, the company will continue to focus on commercial markets like construction and landscaping, "lower-speed, off-road applications where downtime from flat-tires is a concern." The first expansion outside of skid steers for the Tweel will be John Deere commercial lawnmowers.
However, Ralph Hulseman, an entrepreneur and former director of research at Michelin, told The News he believes the Tweel will "sweep the industry," and at some point in the next 20 years, "people driving on car tires will just forget that you ever had to put air in them."