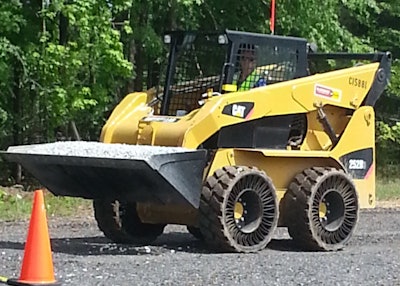 A tire that doesn't go flat? Sounds like something that could save construction professionals both time and money.Since 1995, engineers at Michelin's Technology Center in Greenville, South Carolina, have been working on making that happen. During an event Tuesday at the company's nearby Laurens Proving Grounds, Michelin introduced the Michelin X-Tweel SSL for skid-steer loaders and
Equipment World
was on hand to test and view the innovative new tire.The Tweel is an integrated tire and wheel assembly that has no air and therefore cannot burst or go flat. It has a simple design that replaces 23 components found in a radial tire.In place of the support air normally provides, the shear beam is connected to a deformable hub via a series of flexible, deformable polyurethane spokes that transfer the load around the circumference of the tread band.
As you can see from this video of Michelin engineers doing just about everything they can to bust the Tweel, it's pretty durable.
[youtube 8ydLTXVz9Wo nolink]
Tim Fulton, head of Tweel Technologies for Michelin, says the Tweel offers many advantages compared to air-filled, foam-filled or solid tires. "No-flat capability is the ultimate objective of tire manufacturing," he says. "Many applications are very destructive to the tire—you have to fix the tire and you lose an hour or two fixing the tire. The operating costs add up."
The Tweel is already garnering attention for its innovative solution. On April 26, the Michelin X-Tweel SSL received the Silver Award in the Transportation category at the 2013 Edison Awards.
According to Michelin, many of the other solutions currently available require some sort of compromise with respect to operator comfort and performance. The Tweel is designed to offer all the advantages, but with no compromise, says Jack Olney, marketing and sales for Michelin Tweel Technologies.
"There is a consistent footprint all the time with no extra movement, which eliminates a lot of the bounce," he says. "There is no instantaneous failure like with an air-filled tire, and the Tweel can be retreaded."
Beyond the reduction in downtime caused by flat tires, air pressure checks and situations where you might have too much or too little tire pressure, the Tweel also boasts greater stability and shock absorpstion over normal tires, Michelin says.
The Tweel also feature an increased footprint size and equal tread depth, a single-unit replacement, greater puncture resistance and greater rolling resistance.
Be sure to watch the videos of the Tweel in action above and below.
[youtube WO7lUUGSlOA nolink]