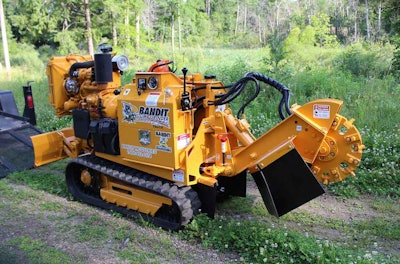 Bandit has combined its 2550 stump grinder with the versatility of a tracked machine with the new Model 2550 Track stump grinder.
The stump grinder features turf-friendly rubber tracks to protect terrain and is powered by a 44-horsepower diesel engine and 20-inch-diameter Revolution cutter wheel in a lightweight, easily towable unit.
A beltless hydrostatic direct drive delivers power to the cutter wheel while reducing maintenance and downtime often associated with belt-drive units. Solid chassis construction with continuous steel welds provides strength and durability for long service life.
A swing-out operator's station has side-located machine controls to provide the operator an unobstructed view of the work area, and for those who prefer to be away from the machine during grinding operations, a wireless radio remote with a tether backup is available.