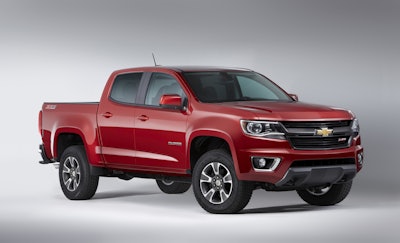 It's sound and performance feel a lot like it's closest rival, the 2.7-liter Toyota Tacoma, as you roll into the throttle.
But instead of the power flattening out as the tachometer nears 5,000 rpm like the Tacoma, the GM 2.5L four-cylinder in the 2015 Chevy Colorado Extended Cab LT I'm driving keeps on pulling strong past six grand as I merge into 70-mph traffic on California's Interstate 5.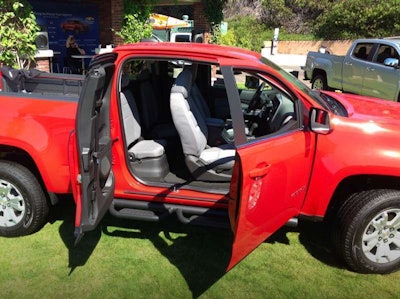 The GM engine has a 40-horsepower advantage over the Toyota, those and the six-speed automatic quickly propell GM's new midsize two-wheel-drive truck so it easily matches that of the fast-moving traffic.
Another thing I notice right away is the Colorado's four-cylinder is noticeably quieter and smoother than either the Tacoma, or Nissan's Frontier, the other player in the midsize pickup market, under similar driving conditions.
But acceleration prowess isn't why a person in the construction trades buys a four-cylinder pickup: it's for fuel economy.
And with an EPA highway ratting of 27 miles per gallon, the new Chevy Colorado (and stable twin GMC Canyon) will definitely reduce annual fuel costs.
The driver-inforamton center showed low- to mid-20s during my driving stint behind the wheel while driving around the Del Mar area of Southern California, running short stretches of interstate, rolling along suburban back roads, and plying city streets in hilly sections of town.
But where the four-cylinder Extended Cab LT surprised me most was in both its maneuverability and overall general performance. It'd make a comfortable, economical daily driver or parts delivery pickup:
The short turning radius, electric power steering and four-wheel disc brakes makes it nimble; the braking and engine power give it the performance; GM's attention to a more upscale interior trim provide good driver/passenger comfort; and the modern connectivity features make it a mobile office.
Would I buy a four-cylinder Colorado/Canyon instead of opting for the 305hp V-6 engine?
If I wasn't going to be towing anything that weighed more than 2,000 pounds (the 2.5L model's max tow capacity is 3,500) on a daily basis, valued fuel economy over horsepower, and needed to keep purchase costs minimized, yes, by all means, I'd go for it.