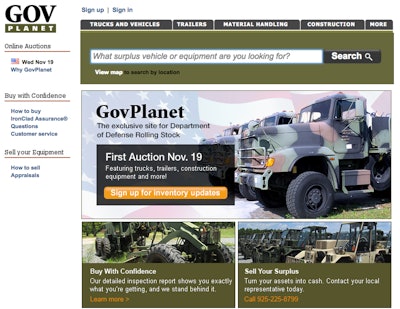 Rolling stock coming out of U.S. military inventories will start selling in November on GovPlanet, a subsidiary of online heavy equipment and truck marketplace IronPlanet.
Awarded a U.S. Defense Logistics Agency contract in July, IronPlanet will use its new online auction site to dispose of between $50 to 70 million government surplus rolling stock assets. "GovPlanet is a compelling new platform for fast and efficient disposal of government surplus equipment that we believe will transform the way assets have traditionally been sold in this market," says Gregory J. Owens, IronPlanet chairman and CEO.
The first GovPlanet auction will take place Wednesday, November 19 at www.GovPlanet.com. Buyers can sign up now for inventory updates leading up to the inaugural sale, which will include surplus trucks, trailers, generators, wheel loaders, cranes, dozers and other equipment. Each piece will have IronPlanet's standard inspection report backed by the company's guarantee the report is an accurate description of the item's condition.
"We will be fully operational with all military sites by February," says Jeff Jeter, president of the Americas for IronPlanet, in remarks to Equipment World. "And while many of these pieces are older, they are also low-hour machines, and well maintained."
Jeter says GovPlanet will be aimed at the 1.3 million registered users in the company's IronPlanet and allEquip buying sites, with one exception: military surplus enthusiasts. And some of the machines will need to be demilitarized, such as removing any attached weaponry, before sale.
allEquip update
Jeter also gave Equipment World an update on its allEquip site, introduced in June. In contrast to IronPlanet's regular auctions, allEquip is set price, buy-now site. "We know that auctions only serve about 10 percent of the used market," Jeter says. "With allEquip, we're telling sellers if they have more time, then we can give them a better price."
The allEquip inventory is up for three weeks, with a price that is typically 12 to 20 percent above what the item will typically get at auction. The inventory, which is usually 5 to 7 years old, is coming from rental companies such as Sunbelt, dealers and others with large fleets. "Many of our allEquip buyers have previously registered for IronPlanet auctions, but have never bought. This helps us reach a buyer base that may shy away from placing an auction bid, but instead are saying 'just give me a good fair price,'" Jeter says.