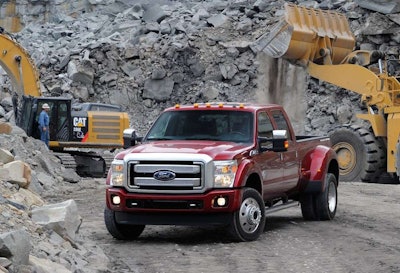 [imagebrowser id=38]
The next generation of Ford Super Duty pickups will be made of aluminum, just like their F-150 brethren.
Ford made the announcement during a conference call with investment analysts Monday afternoon, according to a report from USA Today.
The announcement came as no surprise. Though the announcement that the 2015 F-150 would make the transition to an aluminum body was initially seen by many in the industry as a risky move due to higher costs associated with the metal, customer reception of the truck has been positive and Ford's competitors are expected to use the metal in pickups and more vehicles in the future.
Beyond that, back in August a spy photographer snapped photos of an aluminum Super Duty in testing in Death Valley, California. Unfortunately that particular truck caught on fire and exploded due to an unknown malfunction. (We trust Ford has all of that cleared up now though.)
On the Monday conference call, Ford vice president of global product gave no specifics on the aluminum Super Duty outside of the fact that they would "leverage the aluminum architecture" of the 2015 F-150.
Thanks to its aluminum body, the F-150 shaved 732 pounds off the previous generation.
In a poll and article from August, readers of this site and several construction professionals we interviewed said they were excited about the F-150's switch to aluminum mainly for the fuel savings. None of the people we talked to were worried about the durability of aluminum truck though they did note concern over potentially high repair costs.