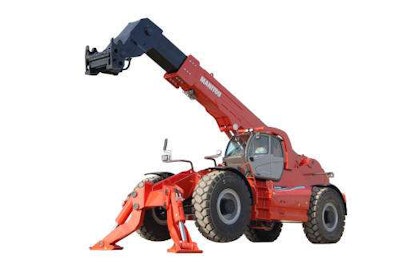 At the Electra Mining Africa show going on this week in Johannesburg, South Africa, Manitou has launched what it says is the world's largest telehandler.
The MHT 14350S boasts a maximum lift capacity of 40 tons and is powered by a 7.2-liter Mercedes-Benz engine. It's designed for the heavy-industrial market as well as the handling of conveyor belt reels, tire assemblies, wheel motors and more uses in the mining sector.
The machine also boasts all-terrain capabilities and a full range of attachments have been created for it.
And if you doubt the machine's claim to "world's largest," just take a look at the photo posted to Manitou's official Facebook fan page below which shows off the scale of the telehandler compared to the height of a man.