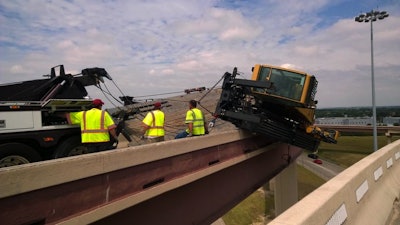 [imagebrowser id=132]
Dallas-area law enforcement got some unwanted experience with uprighting an overturned directional drill Monday afternoon after one fell from a flatbed trailer and then dangled from the side of the side of an overpass.
According to a report from the Dallas Morning-News, the drill overturned while being hauled over a ramp that links the eastbound President George Bush turnpike to the northbound Dallas North Tollway. The toppling of the drill caused quite the situation as traffic was backed up with cars "stalling and running out of gas left and right."
Beyond getting the drill uprighted, the machine then began leaking fuel which had to be cleaned up as well. By the end of the day, officials from the Dallas Police Department, Texas Department of Public Safety, Dallas Fire-Rescue and North Texas Tollway Authority had all responded to the scene.
To make sure the crane didn't complete its fall over the turnpike before it could be righted, crews secured it with cables which involved lifting a worker out and over top the drill.. A crane was then used to lift the drill back onto the ramp. The whole thing was documented by Dallas PD Maj. Max Geron on Twitter. You can see his photos above and don't miss the Associated Press video below.