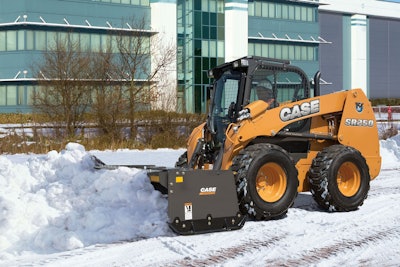 Simplify snow removal applications with Case Construction Equipment's new Snow Removal Package for the SR250 and SV300 skid steers.
The package includes high flow auxiliary hydraulics that deliver up to 37.6 gpm for use with snow blowers and brushes, as well as hydraulic self-leveling and Ride Control, which provide smooth, controlled boom operation.
The package also includes an enclosed cab, heated air-ride suspension seat, block heater to assist in cold starts, 4-corner LED strobe kid and heavy-duty lighting package/side lamp kit.
The radial lift SR250 and the vertical lift SV300, both of which deliver 90 horsepower, are also outfitted with an EZ EH electro-hydraulic setup menu with 9 preset speed and control settings. This enables the operator to make adjustments on the fly based on their preferences. A single rocker switch enables switching between ISO pattern controls and the Case H operating pattern. Feathering and controllability is also improved via new handles with additional feel points.
The SR250 offers a rated operating capacity of 2,500 pounds or 2,700 pounds with an optional counterweight, and a breakout force of 7,480 pounds. The SV300 has a 3,000-pound rated operating capacity, or 3,200 pounds with an optional counterweight, and a 7,570-pound breakout force.
Both skid steers feature a 3-feet-wide cab that is fully sealed and pressurized against noise, dust and fumes, and the cab-forward design ensures visibility. A low step and entry threshold ensure easy access to the cab, and rear-located engine, filters and fill points enables simplified maintenance.