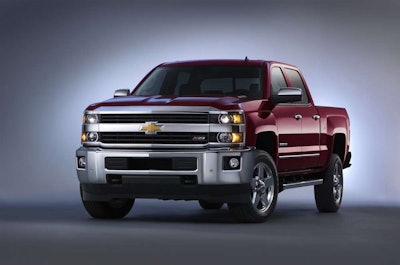 General Motors announced yet another pickup recall today, this time centering on the 2015 Chevrolet Silverado HD and GMC Sierra HD models for a defect that could cause a fire.
This is the second recall to affect GM's 2015 HD model pickups and the sixth overall recall for its pickups dating back to the release of the 2014 Silverado and Sierra half-ton models which ushered in a design overhaul across the half-ton and HD models.
The latest recall affects 58 Silverado HD and Sierra HD pickups. GM says these trucks have a manufacturing defect where retention clips that attach the generator fuse block to the truck's body could become loose. The fuse block could then move out of position and cause a fire, according to the GM announcement.
GM says no crashes or injuries associated with the trucks have been reported.
This latest recall is one of four announced today totaling 2.42 million vehicles in the U.S. Since the beginning of the year, GM has recalled a total of 13.5 million vehicles. Just last week the automaker recalled 2.7 million vehicles including 477 2014 Silverado and Sierra half-tons and 2015 Chevrolet Tahoe SUVs due to a steering defect that could cause a crash. GM overnighted letters to those customers and warned them to not drive those trucks, but tow them in for the required repairs.
Each of GM's three truck recalls previous to the steering defect this year also centered around fire risks with larger recalls coming in January and March and a smaller one issued just a few weeks ago.
GM says it has added 35 product investigators since the beginning of the year. So far, the automaker has issued 29 safety and non-compliance recalls in the U.S. in 2014. The automaker says it expects to take a charge of up to  $400 million in the second quarter, primarily for the cost of recall-related repairs announced.