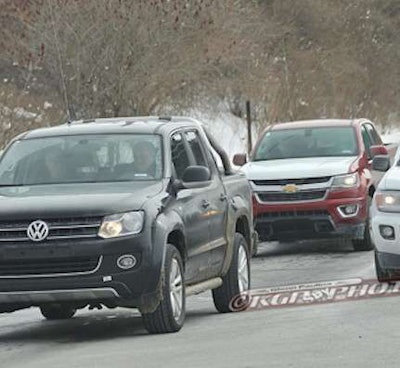 [imagebrowser id=71]
A very interesting batch of spy shots have recently surfaced reportedly showing the two upcoming diesel pickups from General Motors being tested alongside a pickup not currently available in North America.
According to a report from PickupTrucks.com, KGP Photography nabbed photos of the 2016 Chevrolet Colorado and GMC Canyon, both powered by GM's 2.8-liter Duramax diesel engine, in testing in Milford, Michigan.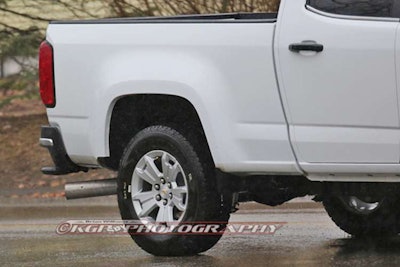 GM unveiled the redesigned Colorado in November and the Canyon in January. With both reveals, the automaker announced that the 2016 models would have a diesel option. KGP identified the Colorado in testing as the diesel model by the venturi exhaust tip (pictured left) which they say "is likely to be the final production exhaust specification."
And while it's cool to get a glimpse at a set of diesel pickups many are excited to see hit the market, the most interesting aspect of these shots is the presence of the Volkswagen Amarok. The Amarok, which also features a diesel engine, has also generated a lot of interest in the U.S. as Volkswagen has publicly mulled over the possibility of selling the pickup here.
One of the barriers to the Amarok's entry has been the so-called Chicken Tax here in the U.S., a 50-year-old, 25 percent tariff on light trucks imported into the U.S.
As KGP says, GM would gain valuable perspective by testing its new diesel pickups alongside an established entry in the segment but it could also be a sign that GM anticipates the Amarok to enter the U.S. market soon. Should the Amarok go on sale here, it would likely be a larger version to better fit demands from U.S. customers.