All over the country people are laying down cash to do what contractors do everyday: operate equipment. There are currently three construction equipment experience venues, and if some venue operators realize their plans, several others may open in the next few years.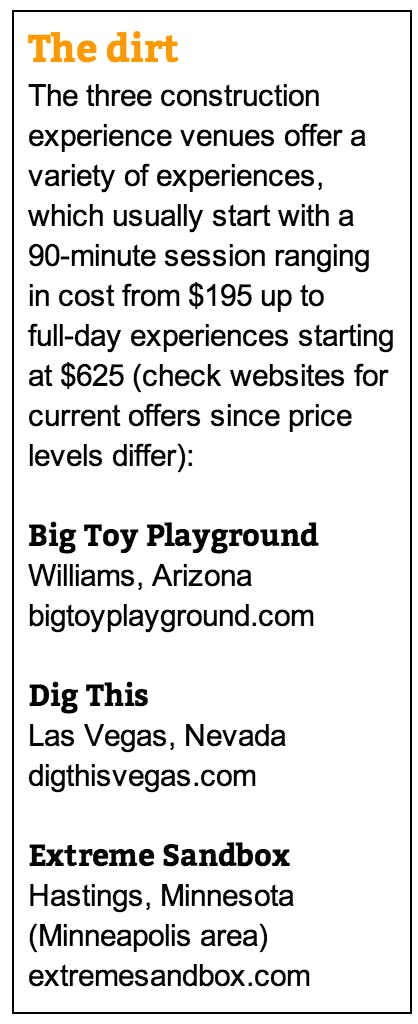 The granddaddy of these venues, Dig This, has been located in Las Vegas since 2011. You could say Dig This owner Ed Mumm is the founder of the paid equipment experience, since he started a pilot program in Steamboat Springs, Colorado, in 2005. The idea hit the former fencing contractor as he did initial excavation for the home he was building for himself.
"It was my first time on an excavator, and after an hour it hit me: If I was having that much fun, imagine all the people who'd like to do this but can't," Mumm says. "Since only 3 percent of the population is involved in construction, there's a lot of people who drive by jobsites and think, 'gee, I wish I could do that.'"
Apparently: In 2013, TripAdvisor named Dig This one of its top 25 U.S. amusement parks.
Another case in point: Extreme Sandbox, based out of the Minneapolis suburb of Hastings, has exploded since it opened its doors two years ago. Co-owner Randy Stenger, a former consultant with Target Corporation, transitioned to working fulltime at the venue about six months after it opened.
"This past summer it became clear we needed year-round facility," says Stenger, and Extreme Sandbox opened up a 6,300-square-foot building last month, giving the company space for an equipment shop, office, gift shop and conference room. It also doubles as an event space, a critical component of Stenger's client mix.
[youtube nvzW9dB_iU0 nolink]
 "We can now have groups of 100 people, but we want to make sure we're just not rotating people through the various machines," Stenger says. To up the experience, he now offers "Destruction Zone"­­—giving clients the satisfaction of demolishing a junk car with a 19-ton excavator—along with operating a working fire truck complete with fire hose, and team building exercises. (Example of the latter: a blind excavator challenge, in which team members use headset communication to guide an excavator operator to perform a specific task behind a high wall.)
Since the whole point is to introduce people to equipment they've never operated, there's a special emphasis on safety, Stenger says. "We haven't even handed out a Band-Aid," he says.  "We're 100 percent accident free," echos Mumm. "Not only do we have to meet OSHA standards, but we have to meet ASTM standards for amusement rides."
Stenger doesn't want Extreme Sandbox to be thought of in the same terms as Diggerland USA, the new construction-themed amusement park opening this summer in West Berlin, NJ. "I think Diggerland will be great for kids, but we're aimed at giving adults an operating experience. Our approach is completely different." However, it should be noted that Diggerland will have rides and operator experiences for adults. And its unique offering is garnering quite a bit of national press, including being named one of the best new theme parks of 2014.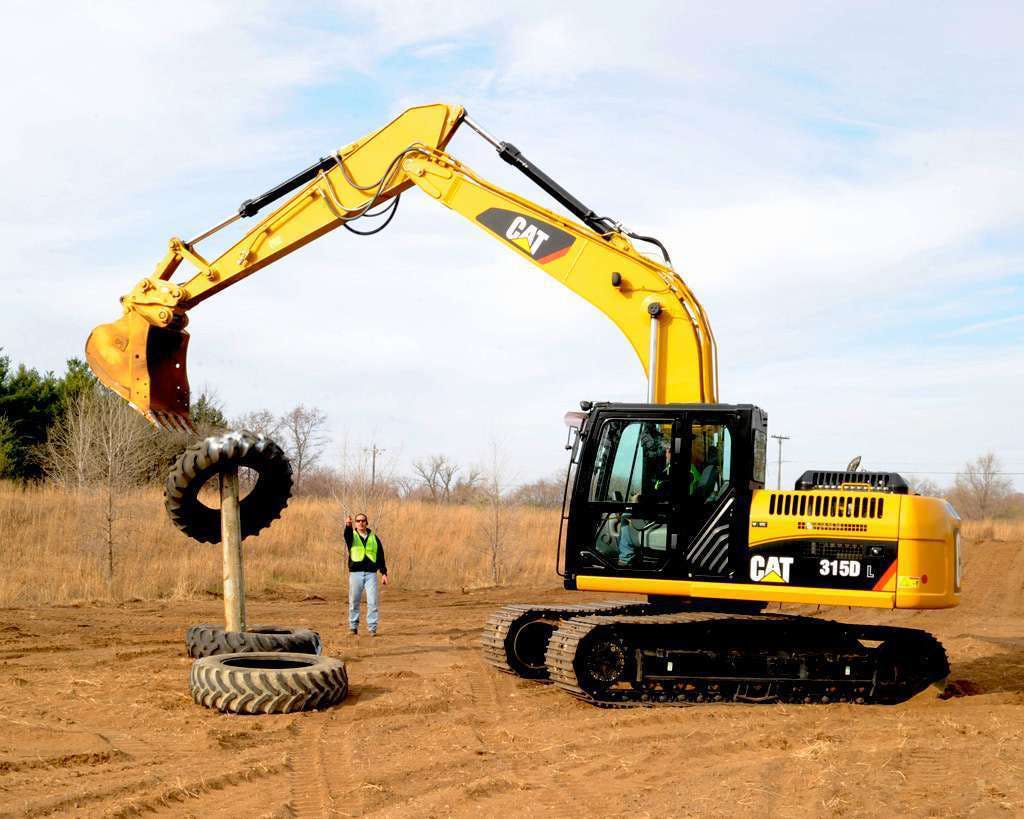 The biggest surprise for Stenger so far? The demographics of those signing up.
"I assumed we'd get a bunch of middle-age men, but even early on, around 40 percent of our clients are women," Stenger says. "Now we direct a lot of our marketing toward women, because they're often the ones making the buy, even for others."
This has also been observed by Mumm and Larry and Sharon Fox, who began the newest of the three venues, Big Toy Playground in Williams, Arizona, this past August.
The Foxes got the idea for their venue when Larry attended a demo at John Deere's Sacaton proving grounds south of Phoenix.  "He noticed how much fun the contractors were having trying out the equipment, and these were people who ran equipment for a living," relates Sharon. "We thought, how much more fun would this be for people who have never had the opportunity to operate these machines?"
The couple, who also run rental firm Target Equipment, hope to take advantage of their location in Williams, billed as the "Gateway to the Grand Canyon." The two juggle equipment between their equipment rental side and Big Toy.
"Equipment rental is so seasonal, and we were looking for something more consistent," Sharon says. Even though their area experiences definite winters, enclosed cabs keep clients warm. "Unless the ground is frozen solid, we can operate," she says. "And snow just adds to the fun."
Big Toy even has a professional operator element, since Larry is a certified National Center for Construction Education and Research instructor. "If someone wants to get certified on a certain machine, we can do that," Fox says. "It's a good option for someone who wants to beef up their skills."
According to Stenger, the initial idea and equipment acquisition part of putting a construction equipment experience together is the easy part. Not so easy: governmental permit hoops and getting your internal processes aligned to provide a great experience. Still, he's willing to talk those curious about the ins and outs of running a similar venue.
Which begs the question: will we see versions of these experiences popping up elsewhere? Dig This is actively promoting franchises, and Mumm thinks construction equipment dealers and manufacturers would be a good fit. "Our goal is to open two franchises by the end of the year," Mumm says, with likely sites in Orlando and California.
Stenger also thinks the Extreme Sandbox concept is ripe for expansion; the question at this point is how and where. "I don't know if franchising is the way to go, but I plan to offer several locations over the next two to three years," Stenger says. "It's more about putting the right people in the right location."
Although contractors are obviously not the target market for these venues, Mumm says the contractors he talks to get a smile on their face when he tells them what he's doing. "And when my clients get out of the equipment, they have a whole new appreciation for the people who do this for a living," he says.