No. 9 Story in 2014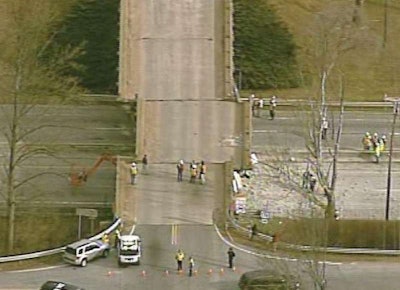 Folks hauling equipment and hitting bridges because they don't know the height of their load is nothing new. Chunks of bridges are taken all the time and some bridges and trestles see repeated collisions.
However, a report from WISTV out of Spartanburg, South Carolina makes every report of a bridge collision we've seen look tame.
A truck driver hauling a boom lift there misjudged the 13-foot, 10-inch clearance of the bridge and the boom lift hit the underside of the bridge so hard that it knocked off a huge chunk of the bridge and shifted the bridge a full five feet off its supports.
The boom lift was knocked clear off the truck. According to the report, the bridge's outside beam is "hanging in the air being supported by the deck and a 24-inch waterline that is attached to the bridge."
The two-lane bridge was built in 1957 and carries about 4,700 passengers daily. The bridge is a major route for ambulances because of its proximity to a local hospital. The good news is that it was scheduled for replacement anyway with bid letting beginning in September.