No. 10 Story in 2014
[imagebrowser id=38]
Today, Ford introduced its 2015 F-Series Super Duty pickups, saying that the new heavy-duty trucks once again offer best-in-class power thanks to upgrades to its PowerStroke V8 engine.
The second generation 6.7-liter turbo diesel engine in the F-250, F-350 and F-450 has been boosted to 440 horsepower and 860 lb.-ft. of torque. That's up from 400 hp and 800 lb.-ft. of torque.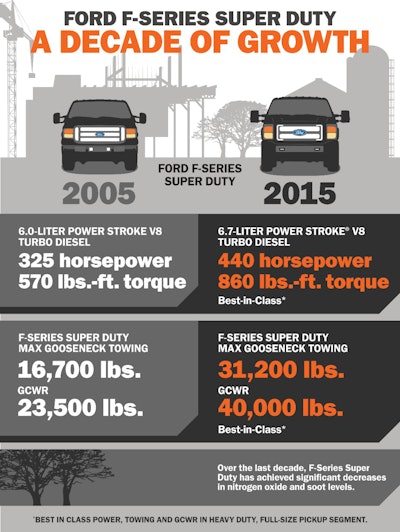 The boost allows the new F-450 to now tow up to 31,200 pounds, an increase of 6,500 pounds (26 percent) over the previous model. Competitors Ram and GM's heavy-duty pickups top out at 26,500 and 23,200, respectively.
The F-350 gets a towing boost as well, up 14 percent over the previous model to 26,500 pounds.
The improvements to the PowerStroke behind its boost in power include a larger turbocharger and new fuel injector tips that Ford says reduce noise and provide a more complete fuel burn.
With the increased power and tow ratings, Ford upgraded the Super Duty chassis as well with new rear U-joints, rear leaf springs, stabilizer bars and shocks. The trucks feature larger brakes and a new antilock brake calibration as well as stronger gears and linkages
The steering system on the new trucks has been upgraded as well with stronger gears and linkages and the fifth-wheel/gooseneck has an increased towing capacity. The brakes are larger and feature new antilock brake calibration for enhanced braking performance.
On top of the Super Duty news, Ford also unveiled its Super Duty and F-150 King Ranch trim models. The trucks will be available in four colors: Caribou, Bronze Fire, Guard and Ruby Red Metallic Clearcoat. The special leather interior is Mesa Brown. The King Ranch trim models go on sale later this year.
You can check out photos of the King Ranch trucks in the gallery above or by selecting an image below.