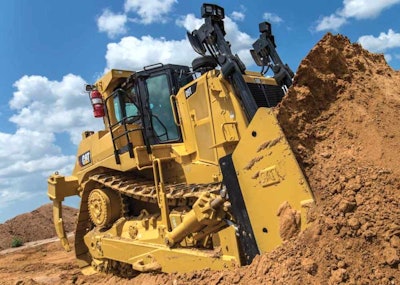 No. 8 Story in 2014
[imagebrowser id=64]
Caterpillar has announced updates to the D9T that bring the large dozer in line with the latest emission standards, improve performance, operator comfort and machine monitoring capabilities.
The new dozer features the Cat C18 ACERT, a Tier 4 Final engine pushing 436 net horsepower at 1,800 rpm and featuring and a torque rise of 36 percent for pushing through the toughest of material.
Caterpillar says the previous D9T model, whose emissions performance meets Tier 2 and Tier 3 equivalents, will remain available for purchase in less regulated countries.
In addition to engine improvements the new D9T also boasts a new more efficient cooling package featuring a durable and less corrosive aluminum bar-plate radiator and a new air-to-air aftercooler which Cat says cools combustion intake to increase combustion efficiency and fuel economy. The package also features a new air-to-oil hydraulic cooler which optimizes performance and extends the life of components by regulating temperatures.
The machine also features a new electronic control unit dubbed APECS (Advanced Productivity Electronic Control System) designed to improve shifting performance. It works with Cat's Enhanced Auto-Shift system powertrain control which automatically selects the right gear and engine-speed match based on ground speed and load.
The dozer's transmission also features a main relief valve which reduces pressure during idling to save fuel.
There are also several blade-control technology options available to make the operator's job easier:
Automated Blade Assist allows operators to select pre-set blade-pitch positions for the dig, carry and spread portions of the cycle. (Standard with the D9T dual-tilt dozer blade option.
Autocarry automates blade lift during carry segments longer than 100 feet and automatically positions the blade to minimize track slip.
Adaptive Load Select enhances Autocarry by automatically adjusting blade load based on factors such as soil type, moisture content and track performance.
Automatic Ripper Control adjusts ground speed and ripper depth to minimize track slip.
Cat Grade Control 3D system provides precise, automatic positioning of the cutting edge and requires no blade-mounted masts and cables. The system reduces the need for grade staking and grade checking, which reduces the need for people on the ground and consequently enhances safety while lowering costs.
Inside, the D9T now features a new color touchscreen that displays real-time machine performance and allows the operator to adjust performance of the dozer to the task at hand.
Several lighting packages are available to enhance jobsite safety and the machine features ground-level access to the electrical disconnect switch, the engine shut-down switch and the jump-start receptacle. The machine also features anchorage points to help service personnel work safely when performing repairs and maintenance.
Cat says in an effort to even further simplify maintenance, the D9T's end-pin bearings on the equalizer bar now accept grease and can be serviced from one location. The new bearings are designed to "significantly extend component life and lower maintenance costs."