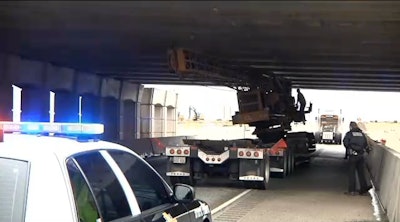 A few weeks ago we shared a video with you of a low-clearance train trestle in North Carolina that trucks seem drawn to like flies to a zapper. We thought the video did a nice job of illustrating why so many of this country's bridges are in such bad shape.
Well, here's another example from a report by KCENTV. In Lorena, Texas a driver hauling a track drill rig from San Antonio eyed a 13-foot, 11-inch bridge and thought his 15-and-a-half foot tall load would fit. It didn't.
The most notable part of this story though is the damage the rig did to the bridge. The Texas Department of Transportation is still figuring out the extent of the damage, but judging by the size of the hole you see to the right, it's not your average chip.
The driver of the truck was cited for an over-height load.