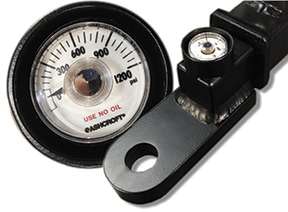 One of those "why-didn't-I-think-of-that-moments" came during a walk through the 2013 Specialty Equipment Market Association's (SEMA) New Product Showcase last November.
Of more than 2,200 new products on display, the WeighSafe Hitch, invented by mechanical engineer and hydraulic expert Kevin McAllister, caught our attention. The WeighSafe Hitch has a built-in tongue-weight gauge activated by a plunger on the ball mount that is pressed when the trailer tongue is connected. The plunger presses the hydraulic fluid through a small channel inside the shank activating the scale.
What spurred the concept? His wife. McAllister's wife said to him at one point, "Why don't you invent something that will save lives," which got the inventor thinking about hitches and the issues related to actually knowing a trailer's tongue weight.
He was experienced in using hitches and knew that inappropriate load distribution can cause the tow trailer to fish-tail, potentially resulting in a serious accident.
The WeighSafe Hitch is being run through a series of rigid tests by an independent lab that specializes in scale use such as this. Leap Innovations is spearheading the marketing of WeighSafe, which its inventor and marketing agency feels will be a game changer in the towing industry.
"The potential market is obviously broad," says Leap Innovations Verl Doman. "Not only did WeighSafe win SEMA's 'Best New Tools & Equipment Product,' it caught the attention of individual potential users, large distributors, retail organizations and major hitch manufacturers both domestic and foreign."
Decisions on its actual distribution to the general public is still in the works. "One thing we learned we from revealing WeighSafe at the SEMA Show is we have a product that appeals right away to anyone who is serious about safety and towing," says Doman. "This product has a significant marketable differentiation and a very broad appeal."
Why We Like It
Up until now the only way to know how much trailer tongue weight was to place a scale under the hitch. Time consuming and need a solid level surface to place the scale. Having the scale built-in allows you to see tongue weight immediately and adjust the trailer load accordingly – or install a weight-distributing hitch if weight exceeds the vehicle rating for tongue weight with conventional hitch.