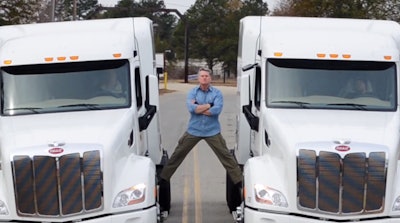 A few weeks ago, an ad by Volvo Trucks took the Internet by storm. It featured action star Jean Claude Van Damme performing an "Epic Split" between two Volvo FM trucks in reverse. And now, unsurprisingly, it has been parodied.
But parodies of viral videos don't usually come from the owners of trucking companies. Especially owners of trucking companies that also happen to be running for state Congressional seats. But that's exactly what Mike Collins does in the video below.
Collins is a Republican candidate for the 10th Congressional district in Georgia and the owner of Collins Trucking. In his version, the trucks are Peterbilt, not Volvo, and they're not running in reverse, but big kudos to Mike for doing his own stunts.
As to why Collins performed his own "Epic Split," the video explains (jokingly, we'd have to assume) it is to "demonstrate the dangers of Obamacare." Watch below.
[youtube _rzKp6gYpSU nolink]