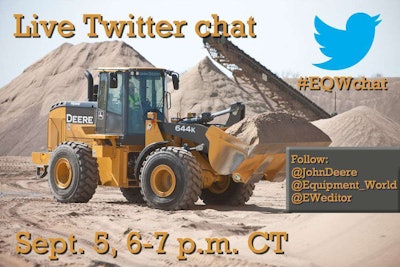 We got our first look at John Deere's 644K Hybrid wheel loader at World of Concrete back in February. And ever since then it's been a machine that's drawn quite a bit of interest.
And for good reason. Deere's innovative design uses both diesel and electricity—a combination that is already saving RJS Construction, the first buyer of the machine, 25 percent on fuel.
We got a second look at the machine at Deere's Coal Valley, Illinois proving grounds back in June, but now we want to give you a chance to ask the folks at John Deere your questions. So we'd like you to join us for a live Q&A on the 644K on Sept. 5th from 6-7 p.m. Central.
We'll be moderating the discussion and our editorial director Marcia Gruver Doyle has some questions of her own lined up. So be sure to follow the Equipment World Twitter account (@Equipment_World), as well as John Deere's (@JohnDeere) and Marcia's (@EWeditor).
If you'd like to submit a question for the chat, you have a few options. You can simply tweet us your question with the hashtag #EQWchat. Or you can submit your question through the EQW Chat page at https://www.equipmentworld.com/page/eqw-chat. (If you're reading this on the Chat page, just submit your question with the form to the right.
And if you don't have a question in mind right now, just mark your calendar and join us live on Sept. 5th. We're sure you'll think of something by then.