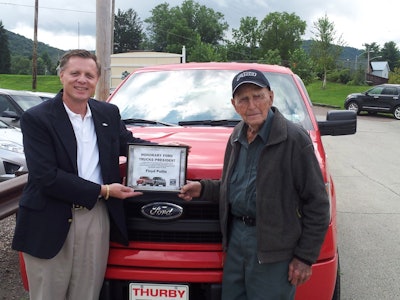 If anyone knows how seriously people take brand loyalty seriously—especially when it comes to pickup trucks—it's us. Each time we post a news story about a pickup the fans and detractors of that particular brand always come out and voice an opinion.
So while we're not completely surprised that Floyd Pullin of Confluence, Pennsylvania just bought his 16th Ford vehicle, it's still pretty cool.
Pullin has been buying Fords since the 1920s. He just celebrated his 102nd birthday with the purchase of a new 2013 F-150 STX—his 16th Ford vehicle.
In fact, because the only vehicles Pullin has ever bought have been from Ford, the automaker named him the honorary president of Ford Trucks for a day. Ford threw him a birthday party at his local dealership and hosted family and friends.
Happy Birthday Floyd. We hope we're buying and driving trucks at your age. And a big hat tip to Ford for celebrating the type of people that have kept their company in business.