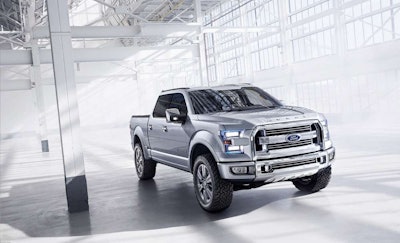 As the housing and construction industry recoveries slowly build momentum, NPR reports automakers are preparing for an all-out truck war to reap the profits.
The media outlet recently paid a visit to Ford's Dearborn, Michigan plant where 7,500 of the company's popular F-150 pickups roll off the assembly line each week. The F-150 has been the best-selling truck in the U.S. for 36 years and the best-selling vehicle period for 31.
And with housing on the rebound, the rumor mill is buzzing with word of a new F-150 on the horizon. The company winked in that direction a bit by showing off its Atlas concept truck (shown above) at the Detroit Auto Show.
Ford wouldn't comment either way, but Ford marketing manager Doug Scott did tell NPR that the company is excited about housing's improvement and that "something big is coming."
"Housing is the missing element," he told NPR. "Housing is now coming back. We've seen over the last four, five months improvement in housing … and all that is a bellwether and a great indicator for the full-size pickup business, so we're really optimistic."
NPR connects the recent announcements of the 2014 Ram 1500 (and its diesel option), GM's 2014 Silverado 1500 and GMC Sierra 1500, and Ford's big secret directly to carmakers' motivation to capture the profit of an improvement in housing construction.
Alec Gutierez from Kelley Blue Book told NPR "As housing starts to improve and as commercial real estate starts to improve and just construction in general, that's where you really start to see strength in the pickup truck market, as small businesses have to get these trucks so they can haul equipment and people back to the job sites."