Lift Higher, Reach Farther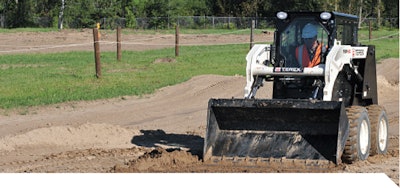 Large skid steers help contractors add services
Although on the small end of construction equipment, skid steers with 2,201-pound rated operating capacities and up are playing a large role in operator comfort and productivity.
"From 2000 until 2005, the unit-size-class popularity changed from the 1,500-pound class and up to the 1,800-pound class," says Jamie Wright, product manager, Terex. "This 1,800-pound class range is still popular, however, and now with increased engineering technology, the 2,201-pound and up sizes are starting to make a huge mark in the industry."
This size class's growth can be attributed in part to how contractors are reacting to the economic downturn. "The recession forced many contractors to add new services and applications to their offerings (demolition, cleanup, snow removal), and the larger skid steers have the engine and hydraulic power to withstand tough environments," says Mike Fitzgerald, loader product specialist, Bobcat.
In return, skid steers have also adapted and become more operator-friendly. "Contractors have taken on a wider range of jobs to survive, and their skids need the added versatility to keep up," says Tim O'Brien, marketing manager, Case Construction Equipment.
Here's how these skid steers are keeping up with technology and contractors' needs.
Comfort equals efficiency
With cabs being the mainstay for most equipment operators, manufacturers have focused on improving aspects from the seat to controls. "More customers are recognizing the value of a comfortable operator as being more productive," says Jordan Lumpkins, marketing manager, LiuGong Construction Machinery.
"Contractors have taken on a wider range of jobs to survive, and their skids need the added versatility to keep up."
And comfort is especially important with equipment being used longer in a day. "A few years ago, contractors would operate these machines for three to four hours. Now, they're using the machines for eight or more hours," says John Comrie, compact product competency manager, Volvo Construction Equipment.
Improvements in the past few years include integrating joystick and fingertip controls, which require less force input and enable precise control. Gregg Zupancic, product marketing manager, John Deere, predicts manufacturers will further take advantage of the
drive-by-wire technology of electrohydraulic (EH) joystick controls by integrating more push-button automatic features.
Manufacturers are also providing pressurized, roomy cabs; increased visibility and machine control systems. The machine control system allows operators to adjust the attachment or implement response, as well as the drive-system response, says Kevin Coleman, senior marketing engineer, Caterpillar. With the attachment control response, operators can match the speed of their attachment system for a specific job, operating condition and/or work tool. The drive control customizes the hystat-drive response to match the operator's preference, experience level and application requirements.
Putting jobs within reach
The machine's capabilities have also advanced. "A skid steer's ability to lift higher and reach farther are some of the key changes in the past five to seven years," Wright says. "Additional reach capabilities enable operators to better center-load a truck, as well as place pallets on scaffoldings."
To compensate for the additional reach and lift capacities, wheelbases – the distance between the center of the rear axle to the center of the front axle – have also increased, providing a more stable platform when lifting weight to full height.
And these upgrades have caused specialized applications to change slightly, as well, Wright says. Since these machines have high-flow capabilities and can lift heavier loads, highway crews are starting to use this size of skid steer for tasks once performed by larger, more expensive loaders.
ROUNDUP
Case Construction Equipment
Delivering 84 horsepower, Case Construction Equipment's SV300 skid steer has an operating weight of 3,000 pounds. The SV300 is part of the company's Alpha Series, which includes three models with more than a 2,201-pound rated operating load. The series features a wire side-screen design, glass surface that provides 360 degrees of visibility and a front/rear weight distribution of 30/70. The SV300 also has a 25 1/2-gallon fuel tank, 3,050 psi auxiliary hydraulics and a suspension vinyl seat.
For product info, visit casece.com.
Caterpillar
The Cat 272D skid steer, which replaced its C Series predecessor, uses a Cat C3.8 Tier 4 Interim engine that's designed with a high-pressure, common-rail fuel system. The D Series features the "Intelligent Leveling" system, which enables electronic dual self-level, work tool return to dig and work tool positioner. The 272D has a rated operating capacity of 3,200 pounds, 95 horsepower and a 23-gpm auxiliary hydraulic system. An available electrically activated quick coupler replaces the C Series' hydraulically actuated coupler.
For product info, visit cat.com.
Terex
The Terex TSR80 radial-lift skid steer has an 83-horsepower, turbocharged Perkins engine with load-sensing, variable-flow hydraulics. With a 2,250-pound rated operating capacity, the TSR80 has a 125-inch lift height and 24 inches of reach. The engine and hydraulic combination provide 8,700 pounds of tractive effort. The TSR80 also has a 10 1/2-foot clearance and a 26-degree rear angle of departure. Its optional two-speed transmission propels the skid steer up to 12 mph.
For product info, visit terex.com.
Volvo Construction Equipment
Part of Volvo Construction Equipment's C-Series, the MC115C skid steer has a 2,600-pound rated operating capacity. The series features a single loader tower arm design, side cab door, forward-tilting cab and ROPS/FOPS protection. The left-hand control pod hinges rearward with the assistance of a gas strut, and the right control pod has a wrap-around seat bar.
For product info, visit volvoce.com.
John Deere
With a 2,600-pound rated operating capacity, the John Deere 326D has an Interim Tier 4 turbocharged diesel engine. For machines working in cold environments, the optional cold-start package includes a heavy-duty 925-cca battery, block-heater kit and hydraulic loader that reduces parasitic loads. The cab includes a suspension seat, optional AM/FM/weatherband radio, additional storage and an HVAC system that employs eight automotive-style louvers. All of the D-Series models have three styles of available controls: hydraulic-actuated hand controls, foot controls or electrohydraulic (EH) joysticks.
For product info, visit johndeere.com.
Bobcat
With a 92-horsepower engine, 3,350-pound rated operating capacity and up to 11 feet of vertical lift, the Bobcat S770 can dig, load, push or grade materials. The S770 has holes for frame-mounted counterweights, an 85.8-inch turning radius, cab-forward design and fingertip controls. Operators can change non-hydraulic attachments from the cab with its optional Bob-Tach powered mounting system. Other options include two-speed travel, air conditioning and heat, hydraulic bucket positioning and a high-flow option.
For product info, visit bobcat.com.
Gehl
With more than 131 inches of near-vertical lift height, Gehl's V330 skid steer has an 84-horsepower, turbo-diesel engine and a rated operating capacity of 3,300 pounds. The V330 also has a side-folding restraint bar, armrests with multiple adjustments, 36.3-gpm high-flow auxiliary hydraulics options and Hydraglide ride-control system. The engine cover is hinged and positioned by a gas-spring, and the rear door opens on hinges on the right side. The skid steer tips rearward on a hydraulic lift.
For product info, visit gehl.com.
JCB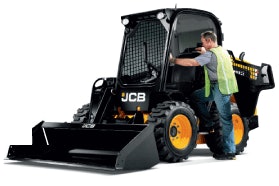 JCB's New Generation skid steers are the first machines to be manufactured, designed and engineered at the company's North American headquarters in Savannah, Georgia. The New Generation includes nine models with 2,250 pounds of rated operating capacity and above. This series features tilting cabs, multifunction joysticks, hydraulic quick hitch, a heated air-suspension seat with adjustable armrests and O-ring face seals for all hydraulic connections. With both vertical and radial lift models, the New Generation skid steers have a PowerBoom design, which uses a single arm.
For product info, visit jcb.com.
New Holland Construction
Part of the 200 Series, the New Holland L225 skid steer has a 2,500-pound rated operating capacity and 76 horsepower. With a 53-degree dump angle, the L225 features the vertical lift Super Boom design, a self-leveling bucket and the optional Glide Ride. The L225 also has a top window, dome light, four halogen work lights, pre-wiring for rotating beacon and a flat floor in the cab. Its turbocharged engine has an externally cooled EGR (exhaust gas recirculation), camshaft in crankcase, suspended oil pan, 500-hour oil change interval, piston rings oil system calculations and balancer counterweights.
For product info, visit newholland.com.
LiuGong Construction Machinery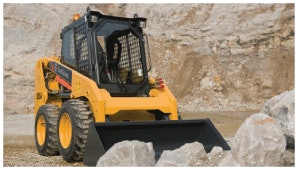 LiuGong's 82.6-horsepower 385A skid steer is the largest model in their loader lineup. Powered by a turbo-charged Tier 4 Interim Yanmar engine, the 385A travels up to 7.6 mph. It has a maximum dump height of 8 feet and a rated load of 2,300 pounds. The 385A features a radial lift path designed for dumping material into truck beds or over retaining walls. The skid steer also has a standard level-lift function, 5,900-pound breakout force, 3,000-psi of hydraulic pressure and comes with a 72-inch-wide straight edge bucket.
For product info, visit www.liugong.com.