More Than Just a Big Dig
Larger backhoe loaders not only offer more strength at either end, but also expanded worksite opportunities beyond digging and loading
By Mike Anderson
Is there really a need for a 17-foot-class backhoe loader? Heck, even a 15-foot-class version could be considered too much.
With every backhoe manufacturer offering extendable sticks, their largest units reach out well past the 20-foot mark. But when it gets to that point, why not just use an excavator?
Veteran equipment operator Bill Roeder is all too willing to share his answers to these questions. In Roeder's case, he is using a John Deere 710G with a Minnich dowel pin attached to the backhoe end. "We needed a bit bigger backhoe than our previous 17-foot-class backhoe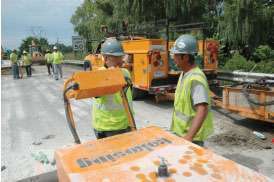 for the size of drill rig we're operating here," he explains. Roeder, who works for Kokosing Construction of Fredrickstown, Ohio, was traveling on Ohio State Road 2 in his second week of concrete patch work with the backhoe/dowel pin unit. "Drilled 2,000 holes in one day," he says proudly. "Everything goes better when the people in front of you are just barely staying ahead of you. When you're catching them, something's going right."
Roader appreciates the backhoe's manueverability and versatility as a drill carrier in this full-depth patch work. If the gap to be patched is short enough, bottom to top, he can work the backhoe's boom and stick from one outrigger-secured position and position the attachment to drill on both walls. If it's a larger patch, upon drilling holes on the closest side, he can quickly reposition the backhoe to drill on the other side before scooting further along the road a few hundred feet to the next cut. "Every thing's about time out here," he says. "The faster you can do it, the more money you're making the company. The more money you're making the company, the more they're going to want you to stay on the job."
Of the four geographic regions defined by the U.S. Census Bureau, the percentage of financed new and used backhoe loaders in the dominant South has increased steadily since 2000, while there's been a decline of financed sales in the West, according to UCC-1 filings of close to 300,000 total sales. The South Region is comprised of Alabama, Arkansas, D.C., Delaware, Florida, Georgia, Kentucky, Louisiana, Maryland, Mississippi, North Carolina, Oklahoma, South Carolina, Tennessee, Texas, Virginia and West Virginia.
Roeder loves the backhoe loader's ability to carry the auxiliary compressor for the drill unit as a counterweight on the loader end. He suggested to his supervisors this would be a better solution than the previous practice of using a separate, detached air compressor. "I'm used to putting the compressor right on the front of the backhoe and then you've got everything you need right with you," says the 17-year veteran. "You've got storage space for extra bits and drills. That way if something goes bad, you can fix it right now, with less downtime."
A big performer
The seven manufacturers of backhoe loaders with base dig depths of 15 feet or above (see Machine Matters Roundup on page 20) promote their capabilities in digging, load-and-carry operations and as attachment workhorses. Caterpillar, for example, lists dozens of attachments for both its 15-foot-class 430E and 17-foot-class 450E models.
Case has the most recent model update in this size class, debuting a 15-foot-class 590 Super N model as part of the N Series introduced in late 2010. "We noticed many improvements compared to the M Series machine," says Barney Kimmel of Williams Excavating, Dillsburg, Pennsylvania. "Both the backhoe and the loader give you more reach and more power. The Power Lift feature on the backhoe is a big deal – you can hang a lot of weight on that boom. We used it for setting big concrete inlet boxes and end walls on a couple of storm sewer projects. It can handle the big shoring boxes, too, which is important if you're installing long sections of sewer pipe. In Power Lift mode, you can idle the engine down and it's quiet enough that you can actually talk to someone outside the machine." Up front, the clamshell bucket earned Kimmel's praise. "We did some grading and truck loading with the loader bucket – very smooth operation, nice hydraulics.
"We roaded the machine a good bit between jobsites," he says of the 590-sized N Series backhoe loader. "It rides fine and has enough power to take the hills. And it's quiet on the road. We really liked the Ride Control feature."
Another Case user, Dennis Zentner of DRZ Contracting in British Columbia, Canada, says the heavy-lifting ability of the N Series backhoe will "save me from using an excavator."
Case's new auxiliary hydraulic system for powering attachments includes standard Flow Control to automatically match the required hydraulic flow to attachments such as hammers, brooms, augers or rakes. Additionally, the hoses are routed inside the boom structure to avoid being hung up and damaged during severe applications. Case offers cab-activated hydraulic backhoe quick-coupler, hand-held hydraulics and loader quick-coupler options.
Fellow CNH brand New Holland, which offers three backhoe loader models with a standard dig depth of 15 feet or above, offers a hydraulic circuit that can be used with a mechanical quick-attach system or an electro-hydraulic quick coupler for fast hookup to a similar wide range of attachments.
With its J-Series, John Deere introduced the optional Total Machine Control (TMC) package for certain models, including the 15-foot-class 410J. Without forgoing any of the backhoe's consistent low-effort response, operators can select any of three backhoe hydraulic speeds: fast for up to 20-percent quicker cycle times; medium for normal digging; and slow for craning objects and digging in confined spaces or around existing utilities.
JCB now offers a combined hammer and bidirectional auxiliary circuit to provide low and high flow across all 3CX and 4CX machines, including the 15- and 17-foot models. This makes the different JCB backhoe loaders compatible to more attachments, says the company, which now also offers a 29-foot hose reel on the hand-held tool circuit for use of tools alongside the carrier. This eliminates the need for a separate power pack … and further lends credence to Ohio operator Bill Roeder's claims that a well-equipped super-sized backhoe loader can do so much more than simply dig and load.
MACHINE MATTERS ROUNDUP
CASE
The newest generation in the 50-year-plus Case heritage of backhoe loaders, the N Series is topped off by the 590 Super N – or 590SN – with a standard backhoe dig depth of 15 feet 5.8 inches. An N Series introduction, Power Lift channels hydraulic power directly to the backhoe boom with the touch of a button, and a new fabricated boom design increases strength while maintaining the over-center design. The effect, says Case, is lift capability comparable to a 5-ton excavator, yet with superior dig depths, extendable out to 19 feet 5.8 inches. Up front, stronger and longer loader arms allow operators to reach the center of the truck when dumping. Available on the 590SN is a choice of Powershift S-Type and Powershift H-Type transmissions, each with four forward and three reverse gears, as well as the Powershuttle transmission with an added fourth reverse gear. Featuring standard kick-down, the Powershift systems introduce SmartClutch modulation, which allows operators to customize the transition from forward to reverse to meet the demands of their specific application. For product info, visit: casece.com/wps/portal/casece/model?product=LoaderBackhoes&brandsite_brand=CaseCE&brandsite_language=en&brandsite_geo=NA&model=Model_LoaderBackhoes_590SuperN
CATERPILLAR
In the 15-foot backhoe loader class, Caterpillar offers a choice of front linkages. The 430E IT model's "integrated toolcarrier" linkage version provides higher breakout forces and parallel lift for material handling and loading applications. The standard 430E has a single tilt linkage primarily for backfilling and truck loading. Available front-end work tools beyond a range of buckets include brooms, rakes, forks and snow plows. At the back end, Caterpillar's curved excavator-style boom provides additional clearance over obstacles while digging a trench or loading a truck, and the narrow design enhances the operator's view to the bucket and work area throughout the operating range. A single-pin bucket linkage results in 205-degree rotation for all backhoe applications. Available work tools include cold planers, augers, hammers and plate compactors. Caterpillar also offers a 17-foot-class backhoe loader, the 450E, available with the optional E-stick that increases boom reach and dig depth by an additional 4 feet. Caterpillar's excavator-style backhoe joystick controls provide smooth modulation and – absent a traditional rear console – increased legroom and greater rearward viewing for the operator. For product info, visit: cat.com/equipment/backhoe-loaders
COYOTE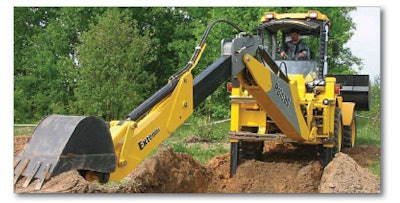 With their wheel loader-like articulated steering, the hydrostatic-drive backhoe loaders brought to North America by Coyote are sourced from Italy's Palazzani, manufacturer of Europe's Paload brand. The carrier design, including automatic proportional self-locking differentials on the front and rear axles, results in enhanced maneuverability, better traction and stability, reduced turning circles, and easier driving with no shifts required, the company says. Inching pedal control is standard. In the 15-foot class and up, Coyote offers the 130-horsepower C28-4LB model with a standard backhoe dig depth of 16 feet 4 inches, stretching out to 19 feet 8 inches with the telescopic dipper extended. Sporting equal-sized tires, Coyote backhoe loaders have a side-shift backhoe design, supported by a folding backhoe assembly and vertical stabilizers. Rotating and downward stopping of the boom is hydraulically controlled. Options include a hydraulic front quick connection, a mechanical rear quick connection, ride control, air conditioning and a hydraulic backhoe offset for side digging. Available attachments include mixers, brushes and mills for the loader end; hydraulic hammers and augers for the backhoe. For product info, visit: coyoteloaders.com/ArtBackhoeLoaders.html
JCB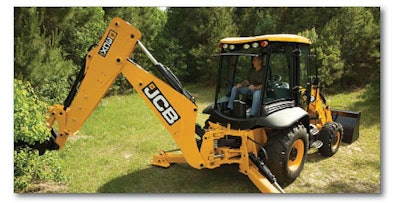 In 2010, JCB made a number of enhancements to its backhoe line, which includes 15- and 17-foot models in both 3CX and 4CX versions, the latter being the four-wheel-steer, four-wheel-drive edition with four equal-sized tires. The new EcoDig hydraulic system uses three pumps to provide the same output as before but at lower engine speeds, resulting in fuel savings up to 15 percent, says JCB. Operators are now able to choose from two working modes, Eco or low flow, to improve machine control; the three-pump system also provides faster performance of the Extradig extending dipper stick. Power brakes are now available, and the repositioning of the in-cab pedal to an automotive styling improves ergonomics. Speeding up travel by 10 percent, JCB's EcoRoad technology automatically drops out two of the pumps when roading; the TorqueLock system is standard with the six-speed automatic transmission for additional fuel savings. The EcoLoad option package, which includes return-to-dig, features a hydraulic speed control switch that combines with the high torque at low speeds of the DieselMax engine for better tractive effort, cycle times, pushing power and hill climbing. For product info, visit: jcbamericas.com/products/2-construction/2-backhoe-loaders
JOHN DEERE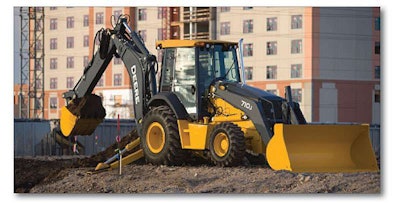 Featuring Powershift transmissions and cruise control as standard, John Deere's J-Series backhoe loaders automatically disengage their four-wheel drive when roading in fourth gear and then automatically re-engage it upon braking. The 410J 15-foot-class model is available with a TMC – Total Machine Control – tool carrier package featuring armrest-located joystick controls that allow the operator to work the backhoe even when facing the side. A unique mini-joystick allows both the loader and backhoe to be operated simultaneously without the need to remove hands from controls. Equipped with a quick coupler, the tool carrier features parallel lift, return-to-carry and boom height kick-out. The auto-idle feature slows the engine speed when the operator momentarily releases the joysticks; a preset speed automatically resumes when a joystick is activated. Operators can move from backhoe- to excavator-style controls at the push of a button, as they also can to adjust hydraulic flow when changing attachments. The 17-foot-class model, the 710J shares the family's enhanced cooling package featuring oil-to-water hydraulic and transmission coolers. Fewer stacked cores lead to faster cold-weather warming, less plugging and easier cleaning, says Deere. For product info, visit: deere.com/wps/dcom/en_US/products/equipment/backhoe_loaders/backhoe_loaders.page
NEW HOLLAND
By combining one of its smaller base machines with the stick of its standard 15-foot-class backhoe loader, New Holland offers an additional option to the market. "Ideal if you're looking for added reach with better fuel consumption than larger machines," the B95B LR long-reach model is a 14-foot-class B95B unit equipped with the B110B's 15-foot-3-inch arm, says Dave December, marketing manager, New Holland Construction. Powershuttle and Powershift transmission options are newly available on the B95B LR and B110B models. Powershuttle, which retains the use of the right-hand shifter, uses synchronizers for on-the-go shifting between all four gears in forward and reverse. With Powershift, featuring four forward and three reverse gears as well as a kick-down feature, the gear shifting is done with hydraulic clutches. The operator can select either automatic or manual gear shifting modes, and a forward/reverse modulation features three selectable modes. Powershift is also available for the B115B, New Holland's heavier 15-foot-class backhoe loader with four equal-sized tires. Explaining that not all operators prefer the same control systems, New Holland continues to offer pilot and two-lever controls on the B Series backhoe loaders, says December. For more info, visit: northamerica.construction.newholland.com/family.php
TEREX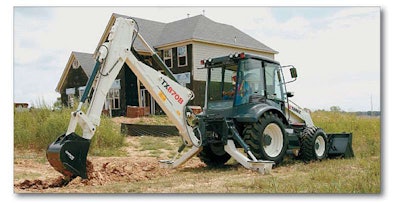 Terex continues to offer products in the TX-B Series, including two models competing in the standard 15-foot class. The two-wheel-steer TX870B and four-wheel-steer TX970B each have a backhoe dig depth of 15 feet 11 inches, extending out to 19 feet 10 inches. An in-cab pattern change lever allows operators to switch from SAE to ISO control patterns to suit personal preference. Up front, Terex backhoe loaders boast increased bucket rotation, allowing the operator to drive into a pile and roll back the bucket 45 degrees, and then dump the load at up to 57 degrees. All current Terex backhoe loaders come standard with front counterweight for greater fore and aft stability, and the stabilizer legs feature lock-out valves in the circuit so they remain down during backhoe operation. Terex positions its TRAC rod steering system on the back side of the axle, mounting it high enough to maintain significant ground clearance. This, the company explains, is important when operators are working in rocky conditions and trying to avoid undercarriage damage.
For more info, visit: construction.terex.com/en/products/new-equipment/backhoe-loaders/backhoe-loaders-center-mount/index.htm
Largest backhoe loaders on the market
Operating weight (lbs)
Steering configuration
Number of drive wheels
Max road speed (mph)
Number of speeds (fwd/rev)
Net power (hp)
Loader lift capacity @ full height (lbs)
Loader dump clearance @ full height discharge (ft/in)
Loader bucket breakout force (lbs)
Loader bucket capacity, SAE heaped (cu yds)
Backhoe bucket digging force (lbs)
Backhoe loading height, standard stick (ft/in)
Max backhoe dig depth, opt. extended stick (ft/in)
Max backhoe dig depth, SAE, standard stick (ft/in)