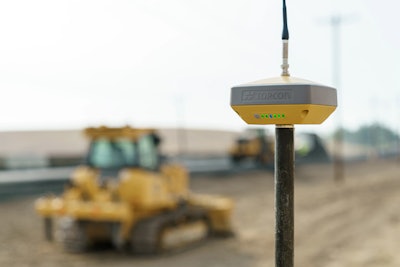 James River Equipment
John Deere dealer James River Equipment has introduced a new, independent division for machine control and positioning technology called Foursight Solutions. Foursight Solutions is a dealer for Topcon Positioning Systems, offering a full range of Topcon products, including GPS, machine control systems, lasers, levels, and software.
Foursight is an established brand with sister company, 4Rivers Equipment, which services construction markets throughout Colorado, New Mexico, and Texas. James River Equipment has locations in Virginia and North Carolina.
"We are excited to bring the respected Foursight Solutions brand to the East Coast," Manager Alex Dixon said. "Customers can expect the same outstanding James River approach to sales and support, but with a fresh look to go with our growing machine technology business."
The company says with the addition of Foursight Solutions, it can offer expanded resources and services for construction technology, including a team of industry experts, an in-house Topcon repair center, and a remote customer support platform. In the future, Foursight Solutions plans to leverage both dealers' resources to offer more advanced customer support.
Foursight employees will work in tandem with James River Equipment to sell and support John Deere machines and technology.
With the introduction of Foursight Solutions, James River Equipment has retired the previously used "WorkSight Solutions" branding.
Kioti Tractor Honors Top Dealers with 5-Paw Status
Kioti Tractor recently awarded 73 dealers across North America with 5-Paw status, the company's top customer experience honor. The program recognizes KIOTI dealers who provide high-quality buying experiences and service to their customers.
"Our expansive dealer network plays a crucial role in the customer journey with the KIOTI brand, and we are grateful for their dedication," said Peter Dong-Kyun Kim, president and CEO of Daedong-USA, Inc. KIOTI Tractor Division. "These dealers demonstrate KIOTI's commitment to providing the highest level of service and enhancing the machine-owning experience for our customers."
To qualify for the honor, dealers are assessed annually on their proficiency in service, sales, operations, parts support, marketing, and customer relations. Dealers who meet or exceed the qualifications receive exclusive benefits and the right to use and display Kioti's exclusive 5-Paw logo.
Of the North American dealers who achieved 5-Paw status, more than 50 qualified as Certified 5-Paw Dealers and 20 qualified as Premier 5-Paw Dealers, the program's highest honor.
Lonici Rental Group Named Magni Dealer
Magni Telescopic Handlers has added Lonici Rental Group to its dealer network. Lonici will offer Magni's Rotating Telehandler lineup to customers in the Northwest Indiana and Southwest Michigan area.
"We are excited to partner with Lonici Rental Group and bring Magni's innovative telehandler technology to Northwest Indiana and Southwest Michigan," said says Joe Leinwol, chief sales officer, Magni America. "Lonici's commitment to providing quality equipment and exceptional customer service aligns with Magni's values, and we look forward to a successful partnership."
"We are excited to offer Magni's cutting-edge telehandlers to our customers," says Ed Loniewski, co-owner of Lonici Rental Group. "We strive to provide our customers with the best equipment solutions available, and we believe that Magni's telehandlers will help us achieve that goal."
Lonici is fully trained in the application, sales, parts, and service of Magni's products. In addition to telehandlers, Lonici sells and services air compressors, backhoes, loaders, trailers, skid steers, excavators, and more.
Vermeer MidSouth relocates to Richland, Mississippi
Vermeer MidSouth in Jackson, Mississippi relocated its team into an all-new 28,000-square-foot building in Richland, Mississippi May 1.
The new facility, located at 880 Hwy. 49 S Richland, MS 39218, features 10 service bays for enhanced product support.
Dennis Vander Molen, president and CEO of Vermeer MidSouth, said, "The purpose-built facility is state-of-the-art and includes more space for growth for our products and services, setting Vermeer MidSouth up to best take care of the needs of our customers for years to come. Easy access to the state's second busiest highway will support our customers' productivity. We are also excited to have this place for the growth and development of our team."
Vermeer MidSouth announced the building of this new location in October 2021 and began building during their 35th year of service to customers in 2022.
MANUFACTURERS & SUPPLIERS
JLG to Expand Telehandler Production Capacity
JLG Industries is expanding its manufacturing footprint at its 500,000-square-foot Oshkosh facility in Jefferson City, Tennessee.
The company says the move will allow for increased production of the SkyTrak telehandler line as it looks to expand in the agriculture sector and increase the company's mobile elevating work platform volume at its Pennsylvania facilities.
"Telehandler demand continues to grow," says Frank Nerenhausen, Oshkosh Corporation executive vice president and president of JLG Industries. "We will invest approximately $120 million in our Tennessee facility over the next two years to increase SkyTrak manufacturing by at least 50 percent. Growing our operational capacity in Jefferson City will enable a ramp-up in production to meet the needs of our customers today and into the future."
Planned updates at the Tennessee plant include incorporating Industry 4.0 manufacturing technology to automate production. Additional investments are also being made at JLG's Leon, Mexico, and Shippensburg, Pennsylvania, facilities.