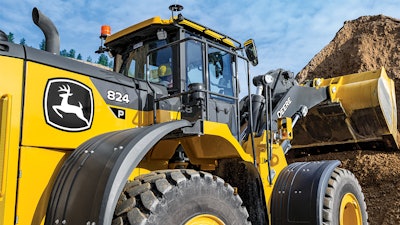 John Deere
John Deere's global net sales and revenue increased 30%, to $17.387 billion, for the second quarter of the company's fiscal year.
Net sales for Deere's construction and forestry segment increased 23% for the quarter, rising to $4.112 billion.
"Fundamentals remain healthy, providing a strong second half of the fiscal year 2023 and supporting an order backlog that extends throughout the fiscal year," said Rachel Bach, John Deere manager of investor communications "Likewise, the construction forestry division continues to benefit from healthy demand, with order books virtually full for the remainder of the fiscal year."
She said the uptick in construction and forestry was primarily due to "higher shipment volumes and price realization."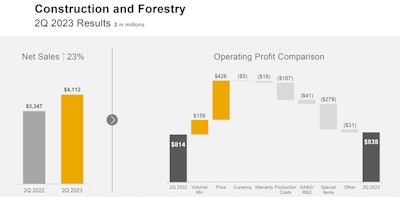 "As shown by the company's outstanding second-quarter results, Deere continues to benefit from favorable market conditions and an improving operating environment," said John C. May, chairman and chief executive officer. "We also are being helped by the sound execution of our business plans by our employees, dealers, and suppliers."
Though supply-chain constraints continue to present a challenge, there has been an improvement.
Overall performance in Q2 came ahead of internal expectations due to two primary drivers.
"From a top-line perspective our factories had their best quarter of execution since the beginning of Covid," said Brent Norwood, director of investor relations. "Supply chain improvements enabled our factories to hit their line rates and deliver machines at a faster pace. As a result, we were able to pull ahead some of the year's production into the second quarter, which will take some pressure off the back half."
Sequentially, revenue is expected to be down by nearly 10% in the third quarter.
"With factories running more smoothly, we experienced fewer production inefficiencies," Norwood said. "The second quarter saw the lowest level of production-cost inflation since Q1 2021."
He noted that fewer factory disruptions due to labor and supply chain challenges enabled John Deere to achieve better overhead efficiency and incur lower premium freight costs.
Also, production costs benefited from better raw materials prices relative to last year.
Supply chain improvements have enabled suppliers to deliver toward their volume commitments and improve their on-time deliveries. "There are still enough constraints in the supply base that will limit higher levels of production later in the year," Norwood said. "Our safety stocks for critical components are still low, and our margin of error is relatively thin."
Given the constraints, the anticipation is that Deere will execute to schedule but doesn't foresee adding much more production to the back half of the year.
"We are also laser-focused on managing field inventory as we think about exiting the fiscal year 2023," he said. "The real benefit of the pull ahead is the return to more seasonal production schedules that are closer to our customers' seasonal use of our products."
2023 Outlook
Deere now forecasts its net income for fiscal 2023 to be in the range of $9.25 billion to $9.50 billion.
For the year, industry sales of earthmoving and compact construction equipment in North America are projected to remain flat or up to 5% growth.
"End markets for earthmoving and compact equipment remain relatively stable," Bach said. "While the commercial and real estate office segments have weakened, the oil and gas sector are leveling, and housing starts appear to have bottomed out."
In addition, she noted that dealer inventory remains below historical averages.
"Headwinds from year over year decline in residential and commercial has been more than offset by strong U.S. infrastructure spending and rental inventory restocking," Bach said.
Both forestry and roadbuilding are expected to remain flat on a global scale.
In forestry, Bach said it is a result of the U.S. and Canada markets continuing to soften while Europe continues to grow.
Within roadbuilding, she said, North America remains the strongest market compensating for sluggish fundamentals in Europe as well as parts of Asia.
Bach said net sales for Deere Construction and Forestry in 2023 are forecast to be around 15% with an operating margin in the 18-19% range.