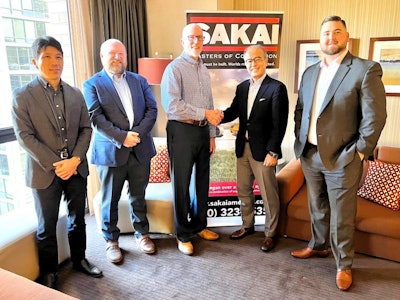 Taylor Construction Equipment
Taylor Construction Equipment has joined the Fecon, Sakai and Screen Machine dealer networks.
The company will sell, rent and service Fecon's line of Bull Hog mulchers, forestry attachments and stump grinders, the full Screen Machine crushing and screening product line, the SMI Compact crushing and screening line, and Sakai asphalt rollers and soil compactors. Taylor has locations in Mississippi, Arkansas, Tennessee, Kentucky, Indiana and Ohio.
In addition to Fecon, Sakai and Screen Machine, Taylor rents and sells new and used construction machinery from Hyundai Construction Equipment Americas, Bell Trucks of America, LoadScan load management solutions, and Taylor wheel loaders.
Mauldin Adds Linder Industrial Machinery to Dealer Network
Paving equipment manufacturer Mauldin has appointed Linder Industrial Machinery as its newest dealer for areas of Florida and southeast Georgia. Major cities in the territory include Jacksonville, Orlando, Tampa, Miami and Fort Myers.
"We are excited about our partnership with Mauldin," said John Coughlin, president and CEO of Linder. "This completes the entire line of the highest quality paving products from commercial to highway class. Our offering of equipment allows customers to perform all phases of their projects from start to finish."
Mauldin's line of equipment includes a full offering of asphalt pavers, oil distributors, tack tanks, maintainers and rollers.
MANUFACTURERS & SUPPLIERS
Kamel Sid Named Head of Operations at Volvo Construction Equipment
Kamel Sid has been appointed head of operations at Volvo Construction Equipment. Sid has served as acting head of operations since September 2022 when Jean Marc des Couriers retired from the position.
In the role, Sid is responsible for the smooth running, efficiency, quality and output of Volvo CE's global operations.
"I am thrilled to continue working with our many passionate and committed colleagues in operations and together drive our transformation agenda," Sid said.
Melker Jernberg, president of Volvo CE, added, "After six months as acting head of operations I am delighted that Kamel has agreed to join the executive management team as a permanent member. He has wide experience both inside and outside the Volvo Group and will play an important role in taking our operations organization to the next level at this time of transformation and change in our business."
Stellar Industries Introduces New Website, Dealer Portal
Stellar Industries has launched a new website and dealer portal offering a streamlined user experience with quick access to all of Stellar's product offerings, the company says.
Visitors can search for products by either product category or by market. Additional features include a distributor locator, the latest company news, product manuals, graphics and videos.
The new dealer portal, dealer.stellarindustries.com, includes all of the resources on the previous distributor site, plus a new e-commerce solution that allows distributors to order replacement parts online 365 days a year.
Users can review drawings of the equipment to identify the parts they need, then click on the identified part to order. Frequently ordered parts can also be placed on an automated order schedule.
Distributors can use the portal to view their order history, check on completion dates and tracking information, and access the latest announcements, price sheets and other sales resources.