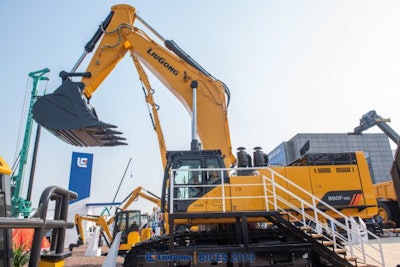 Heavy Equipment Tire Maintenance: A little time can produce big savings
Unless you do the math, you may not realize that after labor and fuel, tires are your third-highest operating cost on a wheeled piece of heavy equipment. So starting a simple maintenance and management program could save you substantial amounts of money.
Creating a tire maintenance and management program may seem like an administrative burden for a small company with a limited fleet, but even a little effort can yield big savings. "If you are not able to look at your tires daily and manage them in that manner, you need to move into a tire maintenance and management program," says Johni Francis, global OTR product manager for Titan International.
To read more, click here.
---
CNH to refine construction model offering in on-/off-highway split
CNH Industrial gave further details on how it would divide its on- and off-highway products into two separate companies during a capital markets presentation at the New York Stock Exchange on Tuesday. It also delved into North American construction product and dealer consolidation.
Hubertus M. Mühlhäuser, CNH Industrial CEO, says there was "a need to focus the organization and sharpen our strategic positioning in order to achieve the full potential of our strategic portfolio." This in turn involves "improving and simplifying our operations and product lineups," he says.
To read more, click here.
---
Gehl RT135 compact track loader brings power to confined spaces
Gehl's new RT135 compact track loader is designed to access tight jobsites yet still maintain power.
The CTL runs on a 46.6-horsepower Yanmar engine that meets Tier 4 Final emissions standards through automatic regeneration and no fuel additives. It can lift 1,350 pounds at 35 percent operating capacity and has a maximum lift height of 9 feet 2 inches. It can be easily transported, the company says, noting that is 57 inches wide and 76 inches in height.
To read more, click here.
---
Backhoe bounce-back? OEMs declare rebound underway with improved features, value, versatility
Backhoes are on a rebound, manufacturers say.
They declare that the reduction in model counts and sales figures is over, and the loss of market share to compact excavators and other upstarts is history.
Backhoes are not just making a comeback, they say. They're bringing improved features, value and versatility.
To read more, click here.
---
LiuGong launches new F-Series excavators with electro-hydraulic control, improved cooling
LiuGong has launched its sixth generation of F-series excavators with sizes ranging from 1.8 to over 100 tons.
The company is stressing improvements in technology for its lineup. Those improvements include an electronically controlled hydraulic system designed for better management of flow distribution. An intelligent cooling system that adjusts fan speed to water, oil and intercooler temperatures. The technologies combine to reduce oil consumption by 15 to 20 percent compared to their predecessors and improve operating efficiency, the company says.
To read more, click here.