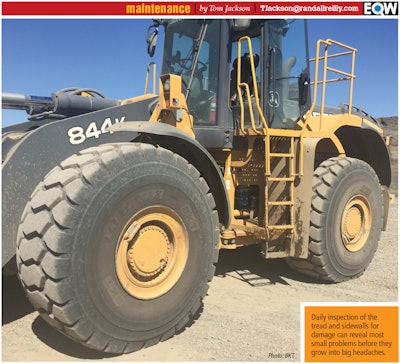 Unless you do the math, you may not realize that after labor and fuel, tires are your third-highest operating cost on a wheeled piece of heavy equipment. So starting a simple maintenance and management program could save you substantial amounts of money.
Creating a tire maintenance and management program may seem like an administrative burden for a small company with a limited fleet, but even a little effort can yield big savings. "If you are not able to look at your tires daily and manage them in that manner, you need to move into a tire maintenance and management program," says Johni Francis, global OTR product manager for Titan International.
There is a perception that tire maintenance and management programs are more suited to the big fleets than small contractors, but Chris Rhoades, manager of engineering and training for BKT tires, turns that myth on its head. "For the small operator a $6,000 tire is really important," he says. "It's just as important to the small contractor as it is the big companies, if not more so. They have to move a lot of material to make up that loss."
The benefits of a tire maintenance management program can be gleaned whenever a fleet has two or more pieces of equipment that use the same size and type of tires, says Tom Clauer, senior manager of commercial and OTR product planning at Yokohama Tire. Managing your tires can be as simple as setting up a rotation schedule or retreading cycle, or it can be more in-depth by using data-intensive, cloud-based analysis programs, he says.
Basically there are three steps to a successful tire maintenance management program: track your tires, seek expert advice from your tire vendors and coach your operators.
Tracking tires
This can be as simple as calculating your tires' cost per hour by checking the hour meter on the machine each time you install new tires and each time you replace them. Record the results on an Excel chart or spreadsheet and use that to determine what brands or types of tires give you the most bang for your buck, which environments are the easiest or harshest on your tires, and which operators are careful with the machine and which ones are cowboys.
Aside from running cost-per-hour calculations, other data points can be collected to get a better handle on your tire costs. One of these is failure analysis, says Francis. Failure analysis is simply recording the cause of a tire being pulled from service.
If your tires experience a lot of cuts and chipping, you may want to examine how clean your loading and dump sites are. Spillage and loose rocks are hard on tires.
If you find a lot of heat-related failures, you may need to look into the design of your haul roads. Are they too steep, are the curves too sharp, or are your trucks overloaded for the road design? Bigger outfits will carefully engineer their haul roads, but at a minimum, you can ask your tire servicing dealer for an analysis or recommendation.
Working with your servicing dealer
Few contractors are tire experts, so in most cases, you should seek the knowledge and expertise of your tire servicing dealer.
"All servicing dealers have tire tracking tools, but a lot of contractors may not be asking for this service," says Rhoades. "If you're not, ask the dealer. Tell him you want tire tracking as part of the deal."
"Any time the end user wants to reach out and have a sales rep or a field technician come out, if they need that kind of support or have questions, that's a part of what we do daily," says Francis. "It's a constant communication. That channel has to be open."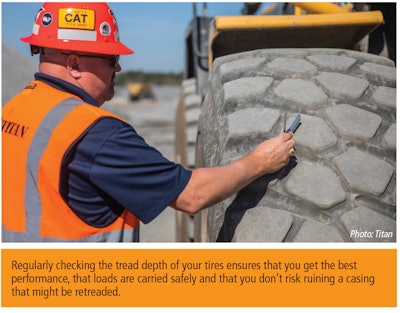 Smaller fleets with fewer tires may not get as many site visits as the big fleets, but they should expect the same professionalism from their supplying dealer. Off-road tires are a major investment and should be respected with a high level of dealer involvement, regardless of fleet size, says Clauer.
Getting a tire vendor to do your tire monitoring is as simple as asking. Most have software tracking programs that do everything except change the tires and input the data. "Most customers don't want to get into the tire management process," says Rhoades. And since the dealers will usually be the ones to change the tires, it makes sense for them to input the data. "They typically do the input and provide reports as a value-added service," he says.
Coaching operators: things to avoid
Rough operators hack the life of your tires. Intoxicated with the power of a big diesel machine, they may not realize they're abusing one of its most important components. "The number-one thing is to give the operator ownership, so they treat the equipment like it's their own," Francis says. "Once you ingrain that into the culture, things will change."
Operators should avoid exceeding the limits of their equipment, including the tires, says Clauer. Knowing the haul restrictions – weight capacity, length of haul and haul speed – are vital to maintaining the tires' integrity, he says.
They should also be coached on the long list of tire-damaging behaviors, including running over debris, static steering and counter-rotation (on skid steers), that accelerate wear and damage.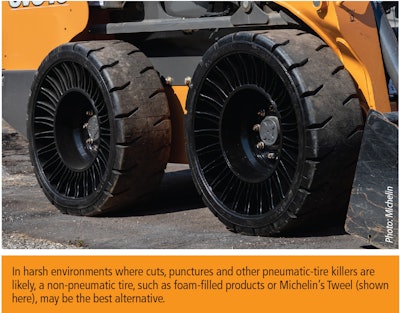 Operators should avoid running tires in abrasive or abusive conditions when wet, or at a minimum, they should gently maneuver in wet conditions. "A wet tire cuts 10 times easier than a dry tire," says Ray McElroy, manager of technical services at BKT. Even overwatering your site or your haul roads with the water truck can increase the potential for deep cuts on a tire.
Likewise, you want to go easy on your maneuvers when operating on pavement in high temperatures. "In Phoenix, when it's 120 degrees outside, they'll leave 1/32nd of rubber on the pavement every time they turn the wheel," says Ron Tatlock, global manager of training for BKT.
Coaching operators: things to do
In addition to avoiding certain behaviors, you should coach your operators on how to improve tire life, says Justin Brock, marketing manager, construction and Tweel, Michelin North America. These include:
Check tires for correct pressures. Every shop should have a master air gauge, and all drivers should have an accurate pressure gauge and be instructed to check the tires on their equipment or truck daily as a best practice, or weekly at a minimum. Make sure that sealing valve caps are in place. A tire that is run 10 percent underinflated will lose 10 percent in tread wear and will come out of service quicker. A tire that is 20 percent below the optimal air pressure will experience casing fatigue that could lead to a catastrophic failure or a zipper rupture. If the tire has been run 20 percent underinflated, it should be removed from the vehicle and scrapped.
Conduct a visual inspection prior to operating. Look for signs of irregular wear in the tread or shoulder and examine the tires for bubbles or bumps, which may be caused by air infiltration or foreign objects. Look for signs of cutting, chunking, stone drilling or debris penetration, signs of irregular wear, deep cracks, cuts or other major problems. If any symptoms of tire damage are discovered during inspection, do not operate the vehicle until a trained service technician can diagnose the severity of the problem and make the proper repairs.
Check the owner's manual or the load and tire information placard to determine precise pressures for the loads that the vehicle is designed to carry. Select the best tire for the application.
Check the wheels for damage or distortion, missing bolts or cracked studs.
Store tires properly when they are not in use – in a cool, dry place away from direct sunlight to avoid premature aging. Prevent exposure to ozone sources such as sun, arc-welders and mercury vapor lightbulbs, as well as ultraviolet rays and inclement weather. Tires should be stored standing up on their tread, not stacked in a pile on their sidewalls.
Beware of mixing tires on your vehicle, especially across an axle. Try to match tires with the same tread depths, same tread patterns and same height (or diameter). Using two different types of tires could damage the vehicle's internal components, because the tires do not work together to provide the same traction and handling performance.
Keep your tires clean! Wash them with warm soap and water. This will help prevent premature aging and rubber deterioration.