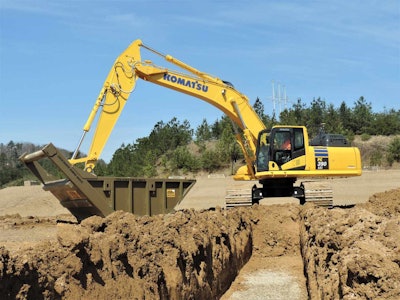 Komatsu has announced earnings from the first quarter of the equipment maker's fiscal year 2018, reporting sales and profit increases with strong demand from North American customers.
For the three months ending June 30, Komatsu net sales increased 15.1 percent over the same period in 2017 to 646 billion Japanese Yen ($5.8 billion). Construction, mining and utility equipment accounted for JPY 594 billion ($5.3 billion) of the company's sales.
Profit during the quarter nearly doubled, rising 83.4 percent to JPY 96 billion ($863 million.)
Looking forward, Komatsu says it projects a net sales increase of 0.1 percent for the full fiscal year to JPY 2.503 trillion ($22.5 billion), with an operating income increase of 25 percent to JPY 339 billion ($3 billion).
Though the company notes a decline in demand in its home country of Japan caused by "a rebound of pre-buy demand in anticipation" of new emissions control regulations instituted there in September 2017, large increases in demand from North America and Asia bolstered sales.
North American demand increased by 24 percent during the first quarter with nearly 20,000 units sold, Komatsu reports. Sales grew 21 percent to 140.6 billion JPY ($1.3 billion). The majority of the demand in the U.S., which the company called "brisk," came from the construction and energy sectors, the company says.
In China, demand grew by 55 percent and was driven by infrastructure projects. Southeast Asia saw demand grow 24 percent driven by "thriving infrastructure development" in Indonesia.
Komatsu says its large leap in profit during the quarter was largely due to reduced temporary expenses in association with the completed acquisition of Joy Global, now called Komatsu Mining Corp.
In an update on the market conditions for mining equipment, Komatsu says that it has seen demand grow 43 percent in the last 12 months, with "sharp" growth rates in Indonesia, North America and Oceania. "We have continued to receive strong orders for our medium-sized and large models, including dump trucks with a 100-ton payload. Orders are gradually recovering for super-large dump trucks with a 300-ton payload, made by Komatsu America Corp.," the company says.