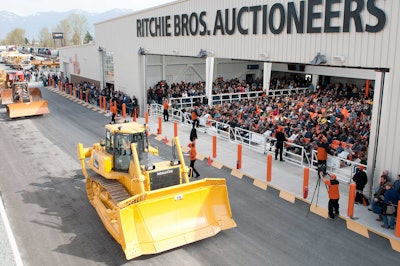 Announced late Monday evening, the auction giant Ritchie Bros. is acquiring internet-based auction company IronPlanet for approximately $758.5 million.
The deal is Ritchie Bros. second acquisition this month following an August 2 announcement that the company would buy New England-based Petrowsky Auctioneers for $7 million.
IronPlanet burst onto the heavy equipment auction scene in 1999 as a scrappy startup, determined to bring online-only platforms to the used equipment marketplace.
Early in 2015, the online auctioneer completed a merger with Cat Auction Services which added onsite auctions to IronPlanet's formerly online-only format.
When combined, the two companies are expected to generate online sales of $3-billion in assets during the 12 months trailing June 30, 2016. The deal will put the combined companies into the top 50 rankings of B2B e-commerce firms in the world.
According to a press release put out by both companies, the addition of IronPlanet will give Ritchie Bros. a wider range of sales solutions and meet customer preferences in international locations such as the U.K., Germany, Japan, and China.
In addition to the acquisition Ritchie Bros. also announced yesterday that it has entered into a long term strategic alliance with Caterpillar in which the company will become Caterpillar's preferred global partner for live onsite and online auctions once the IronPlanet acquisition becomes final.
IronPlanet sold approximately $787 million worth of gross merchandise value (GMV) in 2015 and has maintained a 25 percent compounded growth rate from 2013 to 2015. IronPlanet also saw a 41 percent increase in (GMV) in the first half of this year compared with the first half of last year.
So far this year the online equipment seller has enjoyed quite a bit of momentum, hiring an eBay and Google veteran as its new CMO, expanding its Florida auction to five days and introducing instant financing on equipment purchases.
In addition to gaining IronPlanet's online-only auctions, Ritchie Bros. will also benefit from the inclusion of IronPlanet's numerous partnerships including: TruckPlanet, GovPlanet, SalvageSale, and Kruse Energy & Equipment Auctioneers (for oil and gas industry equipment).
Ritchie Bros. is a 50-year-old auction company based in British Colombia, Canada. It held its first equipment auction in 1963 and expanded into the United States in 1970. The company sold $1 billion worth of equipment online in 2011 and celebrated its first $4 billion year in 2014 with sales from online and live auctions.