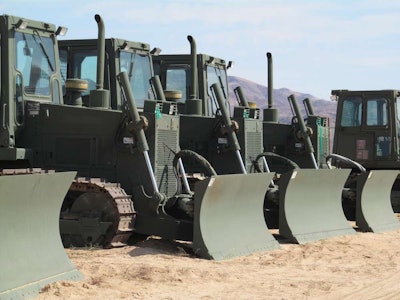 If you hate the color of yellow iron, or you're nostalgic for your days in olive drab, or just looking for some older, low hours machines, you might want to check out IronPlanet's two-day GovPlanet auction of surplus Marine Corps construction equipment.
The auction starts tomorrow (Tuesday, September 22) at 9 a.m. Pacific Coast Time, to be followed Wednesday by an all-Humvee auction.
According to the company, there are more than 1,900 items for sale during their four-day auction. More than 150 USMC machines will be available, including 1980s era Cat and Case dozers, Cat graders and scrapers, as well as some more recent (2004/2005) Cat backhoes and a host of newer machines as well.
The company says more than 300 Humvees will be available as well. Military's gotta make room for those new Oshkosh JLTVs.
To register or to check out the equipment go to IronPlanet or GovPlanet. The auctions are held online so you can view and bid from your computer.