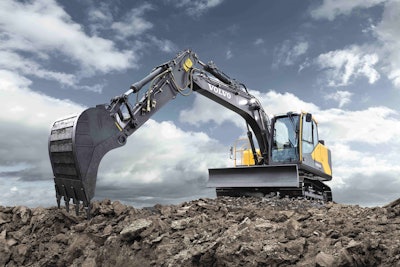 Though weaker machine sales in China and Brazil were partially offset by higher sales in Europe, Volvo Construction Equipment saw overall sales fall during the second quarter.
The company reported a 12-percent net sales decline to $1.6 billion (SEK 13.6 billion), while profit fell 40 percent to $93.8 million (SEK 810 million).
The company notes that while it saw lower demand in most markets outside of Europe, including North America, that lower demand has been partially offset by market share gains in the global heavy equipment segment.
North American equipment sales fell 17 percent to $368 million (SEK 3.2 billion).
"The second quarter saw Volvo CE improve operating margin compared to the first quarter, despite continuing weak demand in many markets," said Volvo CE president Martin Weissburg in a prepared statement. "It is encouraging to see that the ongoing internal efficiency program continues to deliver results, and that Volvo CE is gaining market share in the heavy segment, particularly in Europe."
You can see the company's full regional sales breakdown for the quarter below.