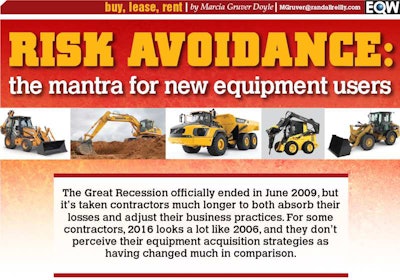 "Our views haven't changed drastically when it comes to buying new equipment," says Al Gorick, president Gorick Construction, Binghamton, New York. "We have always tried to make purchasing decisions based on projected utilization, and when a good value presents itself."
Still others, such as G. W. Tatro Construction of Jeffersonville, Vermont, didn't have much of a recession. The company continued to buy during the downturn, especially since equipment was so readily available and at attractive prices. Because of this, Greg Tatro, company president, says there's been no significant changes either in the company's purchase or rental strategies. "We'll usually rent if we have a need for two or three months," he says. Longer term rentals are handled by rental purchase options (RPOs) and converted at the end of the year "if it makes sense."
A definite shift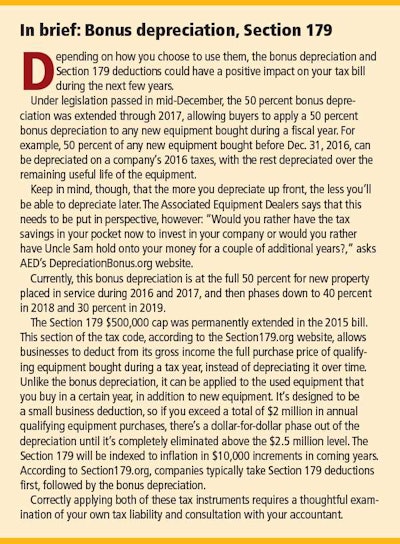 Whatever contractor perceptions are, a definite shift in contractor acquisition practices has been felt on the supplier side.
"There seems to be a transfer of assets on the balance sheet from customers to dealers and rental houses," says Mike Rankin, vice president of construction finance at Volvo Financial Services.
Adds Matt McDonnough, Cat Financial sales manager, Northern region: "Prior to the Great Recession, contractors felt much more comfortable purchasing equipment, with the idea that new work would replace old work. Today, they are much more conservative, and looking for vendors or finance companies to share more of the risk."
"We're seeing that contractors are willing to accept less margin as long as there's less risk," says Brian Harris, vice president of Vermeer Texas-Louisiana. In response, Harris says his dealership has ramped up its rental fleet, seen an increase in the the amount of RPOs it handles, and added to its used equipment fleet to address more price-conscious buyers.
2015's positive impact
Industry associations were a happy bunch at the end of 2015. Not only had Congress finally signed a five-year highway bill, it also had added two Christmas tax presents: extending the bonus depreciation and making Section 179 expensing permanent. (See sidebar at right) All were excellent news for contractors.
"I think getting a long-term highway bill is a big factor in 2016," says John Crum, national sales manager, Wells Fargo Equipment Finance Construction Group. "It's brought the industry a degree of stability."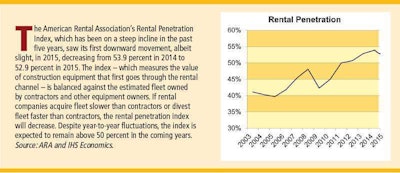 But whether or not contractors take advantage of the tax provisions will be a matter of individual circumstances, says Heath Watton, Southeastern Equipment's Ohio regional manager. "It's going to be driven by the year that a contractor has and whether it makes sense. It's definitely a benefit, but it still has to be right for them."
What helps, however, is the long-term nature of the tax legislation. If a contractor doesn't need it this year, he can still take advantage of it next year. "December was the witching hour during the past few years," Watton says, as the industry waited while Congress played a will-they-or-won't-they game with the tax legislation. "Now people can be strategic about it."
It definitely helped G. W. Tatro Construction plan out their 2015 purchases, says Tatro, but he sees it being applied on a more year-by-year basis. "If you have a good year, your nucleus machines might be getting a few more hours, and it makes sense to buy," he says. "But construction is a hard thing to plan out three or four years, because if you get a few bad jobs, it can change things pretty quick."
"We had a buying frenzy in December because they didn't pass the legislation until mid-December, and people did well last year," Volvo Financial's Rankin says. "Now that everyone knows it's there, there's going to be a smoother buying pattern. People will be fully able to look at the value proposition of buying or leasing new."
Rental comes to the forefront
"One of the big headlines is there's been a fundamental shift in using rental," Wells Fargo's Crum says. "Coming out of the recession, contractors are much more open to renting."
The American Rental Association (ARA) Rental Penetration Index, which was introduced in 2013, now stands at 52.9, meaning that 52.9 percent of the value of construction equipment sold in the United States first goes through the rental channel. ARA and its partner IHS Economics created the index by balancing the fleet owned by rental companies against the estimated fleet owned by contractors and other equipment owners. If rental companies buy more equipment than other types of buyers, the index number goes up; if they buy less than other buyers, it goes down.
Since rental companies are also the beneficiaries of a stabilized bonus depreciation and the multi-year highway bill, there's now a level of market certainty on the rental side that has not existed for more than a decade, says John McClelland, vice president for government affairs and chief economist at ARA. As rental companies are more comfortable replacing fleet, the age of their fleets will likely come down, giving contractors access to newer equipment. ARA says it expects a 6.1 percent increase in construction equipment rental revenues this year, followed by a 5.1 percent increase in 2017 and a 5.7 percent increase in 2018.
Construction equipment rental revenue has been on a sharp incline since 2011, McClelland says.
"I don't know if there's an answer to how far it can go, but I don't think we're at the top yet," he says.
The Great Recession capitalized and underlined all the existing arguments for contractors to rent: It's an easily-disposed-of cost; the rental company handles maintenance, repairs and delivery; and it frees up capital for other expenses. "Contractors' minds have changed on rentals," McClelland says. "With it, they don't have to worry about utilization, just that they have the machine capable of doing what it needs to do when it needs to do it." In addition, they don't have to make-do with the equipment in their fleet to perform a specialized task.
However, he adds that all the credit/blame with rental's continued success can't be attributed to the massive 2008-2010 industry dip. Other forces, including equipment availability, specialization, and the increasing complexity of equipment also had a role.
Another factor promoting rental is the significantly increased cost of new equipment, primarily the result of Tier 4 emissions compliance, says industry consultant Frank Manfredi. "Compared with a $100,000 Tier 3 unit, Tier 4 Final compliance will add about $25,000 to the cost of the machine," he says. "So you're starting with a machine that's 25 percent more to start with, and someone will have to absorb that difference." While the bonus depreciation expansion will create opportunities for new equipment buys, rental becomes a matter of cost control, Manfredi says. "It's very convenient to go to the rental store and just get a machine."
Adds Watton: "You'll always have rental because of sticker shock. You can buy a new backhoe for $120,000…or rent it for $55 an hour."
Watton sees rental really come into play when a contractor wants a specific need filled. "If you're going to drop $120,000 on a backhoe, for example, it has to pay back," he says. "Rental has allowed contractors to own their core machines and rent the niche items." Easily-attained rental equipment has now become a contractor's auxiliary fleet. As a result, instead of buying four or five machines, contractors may instead buy two or three machines and rent the remainder.
And for dealers, rental is an important first step in the door toward an eventual buy, Watton says. "About 65 percent of our retail deals originate out of the rental fleet," he says.
Still, "rental won't become the end-all-be-all, because it makes too much sense for people to own what they need," Watton says. "It won't completely take over, but it will be a large part of the mix."
Long live the RPO
Rental purchase options, which give contractors the ability to have part of their rental payments count toward buying a machine if they opt to buy, are, by all accounts, one of the most popular financial options in the market today.
Jack Bailey, president of JBR, Fredericksburg, Virginia, is a big fan of RPOs. "You're building equity while you're using it, and if the market goes upside down, you can send it back," he says.
"I have made it a point to always have an exit strategy with my equipment purchases, so I have been renting on an RPO as long as I can to generate as much equity as I can," says Joe Porchetta, president, GMP Contracting, South Plainfield, New Jersey. "RPOs give me eight months to a year to see if the work load will remain. If it doesn't, I can off load it. My up-front costs are more, but this lets me manage my risks."
"Contractors are asking for us to do more RPOs, because they want to see if that second job comes behind the first one in order to justify the purchase," Harris says. If the second job doesn't materialize, "customers are willing to walk away on 25 to 30 percent equity on a machine, which you just didn't see before," he says.
Most RPOs are less than a year; as the arrangement ages, dealers may offer contractors incentives to convert an RPO to a purchase or lease in order to get a machine off their books. Manufacturers, wanting dealers to replace RPO'd machines with new machines, can also sweeten the deal.
"This is where the bonus depreciation can be extremely important," McDonnough says. "Quite often, it tips the scales on an RPO to convert to a purchase in the fourth quarter."
Leasing gets more flexible
"The perception of leasing, in many instances, has changed," McDonnough says. "It used to be thought of as a way to acquire equipment with less money down, have a lower monthly payment, increase your working capital and avoid putting debt on your balance sheet. Now, the perception has changed to a way to shift the risk to someone else's balance sheet."
But, some contractors are not enthusiastic when it comes to leasing. "We don't prefer leases," one contractor told us. "Our accountant doesn't think it's a tool for our business."
"With leases, you're on the hook no matter what happens with the terms of the lease," Bailey says. "We don't lease anything, because it's just not a good fit for us. I want to own it, or be able to get rid of it."
There may be reasons for contractors to re-examine the leasing option, however. For one, "leases are getting shorter in nature," says Crum, with lease terms, formerly averaging three to four years, now averaging two to three years.
And depending on the deal, flex leases, which have been around for awhile, may be more attractive since they offer multiple outs, some as short as 12 months. The downside is that you trade the increase in flexibility for a higher monthly payment.
"Flex leases give customers the flexibility to size their fleet to their workloads, while gaining the cost benefits of leasing over renting," Volvo Financial Services' Rankin says. With a flex lease, contractors typically pay a higher payment for the first 12 months, and if they decide to continue with the full lease term, pay a lower payment for the remaining months. "It's a highly competitive market – both from the contractor's perspective and the lender's perspective," Rankin adds.
"Leasing is a great option when there are manufacturer-supported initiatives," says Jeremy Hiltz, president of Jeremy Hiltz Excavating, Ashland, New Hampshire. "For example, if you can structure a lease with a low or no money down factor and a favorable residual buyout, the first half of the cost is off-balance-sheet financed, and then you can purchase in the end for virtually the same cost as a straight acquisition with more options."
Rankin says leasing has a definite upside. "Leasing helps customers manage their costs, because those costs are defined, they know what their payments are and what will happen at the end of the lease, and they don't have to worry about resale. Our business has returned to normal, with slightly more leasing than before. Overall, total volume is up 5 to 10 percent compared to last year."
But are contractors in a buying mood?
"As a whole, they're standoffish" when it comes to outright purchases, Harris says. "They'll replace an aged machine here and there to keep downtime to a minimum, or they'll buy one because they need it."
Whatever method contractors use to acquire the use of equipment, it seems right now they are seeing at least a short-term need. Several contractors that we contacted said they had either bought, converted an RPO, or increased their rentals in the past few months.
"As a whole, customers are evaluating the buy versus lease decision more closely when acquiring equipment," Rankin says. "Many want to have a good balance of both owned and leased equipment, based on the unique benefits of each, as well as the duration and size of their jobs."