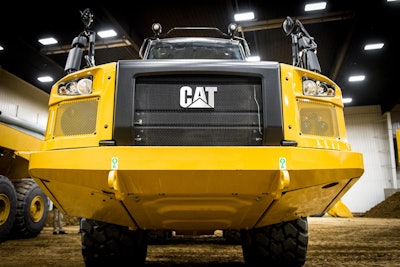 Reporting a second quarter that saw sales fall 16 percent, Caterpillar has again cut its outlook for 2016.
Facing continued downturns in the oil, gas and mining industries coupled with sluggish economic conditions in developing countries, sales and revenues fell to $12.3 billion while operating profit dropped 41 percent to $785 million.
Cat chairman and CEO Doug Oberhelman says he is pleased with the company's performance in the face of challenging conditions and says the company's cost-cutting efforts, which have closed or combined several manufacturing facilities and cut 11,200 full-time and 2,700 part-time employees from the company's workforce in the last year, is having its desired effect.
"Our goal when sales decrease is to lower costs so the decline in operating profit is no more than 25 to 30 percent of the decline in sales and revenues," says Oberhelman. "For the quarter, our decremental operating profit pull through was better than our target range."
Cat has lowered its outlook for 2016 a second time, dropping its expectation for total sales to between $40 billion and $40.5 billion. The company's previous outlook, released with its Q1 financial report, called for sales to fall between $40 billion and $42 billion.
The company says expected restructuring costs for 2016 have risen from $550 million to $700 million, mainly due to additional workforce reductions to be made in the second half of this year.
With this outlook, Cat is facing an unprecedented fourth consecutive down year.
"Despite a solid second quarter, we're cautious as we enter the second half of the year. We're not expecting an upturn in important industries like mining, oil and gas and rail to happen this year. We're continuing significant restructuring plans, which are designed to bring our cost structure more in line with demand while maintaining our capability to quickly serve our customers when our business recovers," Oberhelman says. "Once it does recover, we expect substantial incremental profit improvement, realizing the benefits of the tough actions we're implementing now coupled with our ongoing investments in products and digital capabilities."
Construction equipment sales fell 8 percent to $4.4 billion in the second quarter, with operating profit falling 6 percent to $550 million. Though sales in the Asia/Pacific region rose 12 percent, the improvement was offset as sales in Europe and the Middle East were flat and sales dropped by 32 and 13 percent in Latin America and North America, respectively.
Cat says the drop in North American sales is due to lower overall demand as declines in demand for construction equipment from the oil and gas industry offset an increase in activity in residential and nonresidential construction.
Resource Industries, home of Cat's mining business, again saw huge quarterly declines. Sales in the segment fell 29 percent to $1.5 billion, leading to a loss of $163 million—down 704 percent from Q2 2015's $27 million in profit.
Cat's Energy & Transportation segment sales fell 20 percent to $3.8 billion with profit falling 36 percent to $602 million.