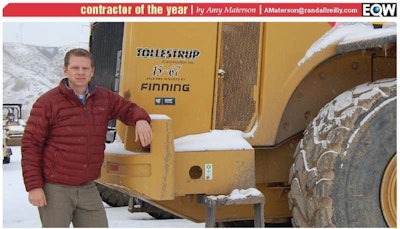 For James Tollestrup, running the family business has included mastering the ability to transition the company from one phase to another. The third-generation contractor has taken Lethbridge, Alberta-based Tollestrup Construction to new levels of growth while maintaining the identity of his grandfather's company.
A changing identity
Founded in 1940, the company has avoided experiencing growing pains that could pose potential problems, simply because the company transformed itself several times, laying the groundwork for the future expansion of the firm.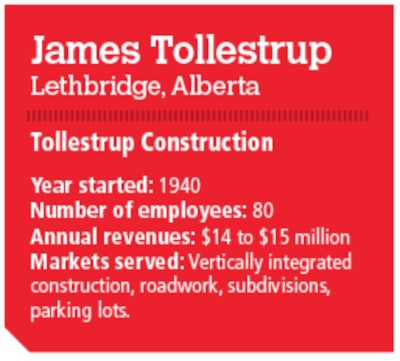 The company founder, Glenn Fredrick Tollestrup, started excavating basements in Lethbridge with a single all-cable, non-hydraulic backhoe. As he prospered, he added strip mining and pipe jobs to his portfolio. In 1949, he purchased a Salt Lake-based coal processing facility, with the idea of processing the coal refuse to remove waste, and then selling the product. A crushing plant soon followed, and then an asphalt plant. James' father, Stephen, was now involved in the business and wanted to compete in the highway paving market. The early emphasis on strip mining gave way to paving when the company sold its coal refining plant.
Still expanding, the company sold much of the paving division in the '70s and continued working primarily in Lethbridge, while also serving as the main supplier for sand and gravel products in the area.
New leadership
When Jim Tollestrup was old enough to become heavily involved in the family business, the company had just two base crews and 25 guys. Today it handles a range of large construction projects in Lethbridge.
Under the current Tollestrup leadership, the company has experienced planned and controlled growth – 40 percent over the last 10 years. Jim says the company is now completely vertically integrated – mining and manufacturing different types of sand and rock products, including dry crush, washed rock, washed sand, concrete aggregates, red shale and asphalt. In addition to traditional road building and paving, the company is actively involved in asphalt recycling. "Our growth is based on economics," Tollestrup says. "We tried not to get too big too quickly. We had a game plan and we stuck to it."
The Tollestrup Group, which Tollestrup manages with his sister Mattie Murphy, also includes a development division, some property management and several Wendy's and Tim Horton's franchises. Although he's up to 80 employees in just his construction division alone, he keeps a close eye on things. "He's absolutely hands-on with respect to the construction side," says Brent McDowell of Finning Cat. "He's grown up doing that; he's been exposed to it his whole life. He's very conscious of what it takes to be good at what you do."
McDowell says Tollestrup is as committed to the Lethbridge community as he is to his company. "They don't bring attention to themselves – they often sponsor things anonymously, but they help out immensely," he says. McDowell recalls a brush fire that broke out in the area in 2012. "This area has a lot of wind turbine projects and is very windy," he says. "A fire started and just took off. It was threatening the city. Jim's machines were there right away – no question."
Most of Tollestrup's work is concentrated in the city of Lethbridge, where the company handles a lot of municipal work, in addition to construction projects including retail centers, offices, apartment complexes and subdivisions. Projects include work for Home Depot, Comfort Inn, Walmart, the University of Lethbridge, and numerous area schools and churches.
As the company has diversified, it's become increasingly important for Tollestrup to surround himself with talented, knowledgeable people, and he's been willing to go the extra mile to ensure he has the best personnel possible. He's paid for training or school for several employees, including his senior project manager, Jonathan Hamilton, and his safety coordinator, Trevor Carroll. As a result, he ends up with long-term, loyal employees. "We like to promote from within when we see people who have potential," he says.
All in the details
Over time, Tollestrup has consistently improved the company's 100-machine-plus fleet, which he says is approximately 95-percent Caterpillar. With 5 full-time mechanics and 2 mechanics trucks operated from a 230-acre location on the Old Man River, Tollestrup is serious about proper maintenance and eliminating downtime.
Although the company has sometimes purchased equipment at auction, Tollestrup says it has been several years since he has bought used equipment, preferring to buy new. "My dad and my granddad didn't replace a lot of equipment, but now we base our purchases on equipment lifecycle," he says. "Even though it's capital intensive, you just can't afford to have the downtime."
Having an up-to-date, well-maintained fleet has allowed Tollestrup to remain flexible in the types of jobs he takes on. Even though he has no aspirations to get back into performing highway work, Tollestrup says he'll consider most other markets, and has no real sweet spot. "We will take on jobs ranging anywhere from $200,000 to $15 million," he says. "There's always room for the smaller stuff."
Thoughtful transition
For Tollestrup, managing the transition from a cozy family environment to a more corporate feel was simplified by the addition of layers of structure, but applied in a thoughtful way.
Although he initially regretted losing some of the family atmosphere, he knew the company had become too large to maintain the minutiae of that kind of workplace. Having a fully staffed office as well as a controller, full-time human resources professional and full-time safety expert has allowed him to mold the company into the entity he wants it to be.
Even though the company has grown at a rapid rate under Tollestrup's leadership, he has no plans to expand geographically, preferring to remain in Lethbridge. Most of the company's projects are within a 75-mile radius of the city, and a satellite office is not in the picture for Tollestrup, who describes himself as a micromanager. "This is a hands-on business," Tollestrup says. "And it's a tough industry. You've got to have someone there to look after things." With that in mind, Tollestrup is actively engaged in succession planning, including implementing a board of directors.
"I'd like to maintain the status quo," Tollestrup says. "I might like a little more growth, but I'm pretty happy where we are. I enjoy the day-to-day challenges I never expected, and I'm learning more than I ever thought I could."