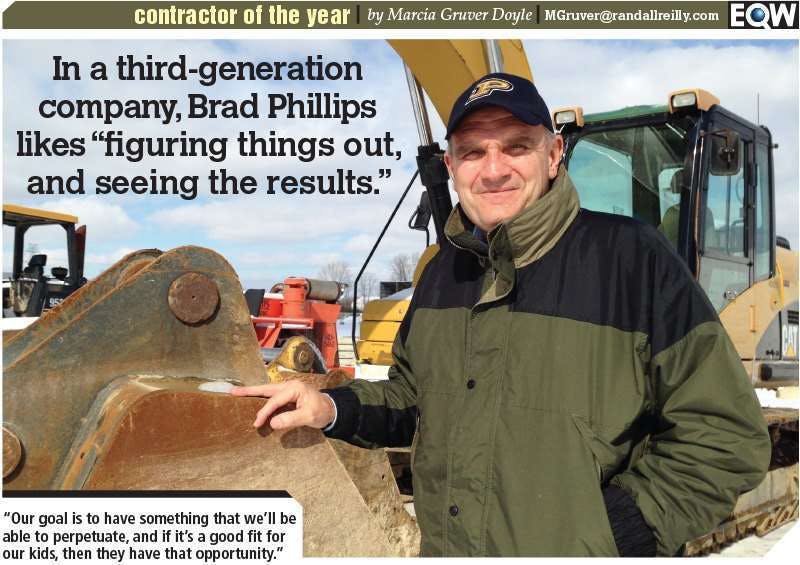 When you ask Brad Phillips when he first became interested in construction, his answer is straightforward: "I can't remember when I haven't been."
And when you look at Brad's background, his answer makes perfect sense. Brad is part of the third generation that runs Phillips Companies, Beavercreek, Ohio. The company, which was started by his grandfather as a sand and gravel company in 1942, has three main divisions: aggregate production, ready-mix, and Brad's division, excavating.
"I can't think of a time when I thought I wasn't going into construction," he says. "It's what all the people around me were doing and I wanted to be like them. Plus, it's fascinating; I like figuring things out, and seeing the results."
So Brad worked on pipe crew and around the company's gravel pit during summers in college. But after graduating from Purdue, the construction management grad spent a couple of years working for others on construction sites in Dallas and Chicago. This gave him perspective, and allowed him to gain both lifelong mentors and an appreciation for the family business. And even though his son is studying construction management at Bowling Green University, "I still don't want to pressure him to come into the firm," he says. As it was with him, it needs to be a choice.
Understanding what needs attention
Phillips Companies' work concentrates in the southwest Ohio area around Dayton, with the excavation division doing a variety of work, including residential, commercial and institutional site work, road work and utility installations. "We are not the people who're going to move 500,000 cubic yards of dirt and install a mile of 30-foot deep sewer," Brad says. "But we have great people from top to bottom who are good at what they do. We are good at managing and constructing small to mid-size site projects and we understand the areas that need attention in order to produce a high quality project in a safe and timely manner."
Brad appreciates that Phillips Companies is a survivor of the Great Recession. "All of the owners took dramatic compensation cuts, we went to four-day weeks during the winter, and looked at every vendor early-pay discount," he recounts. And while its bonding company reviews have become much more detailed, the company benefitted from the downturn, snagging two managers, Dave Warner and Pete Marshall, from downsizing companies.
Still, competition is tough, and "the guys who are still around after the past five years know what they are doing," Brad says.
"My dad and uncles – who took over from my grandfather – did a good job of structuring this business for longevity," Brad says. "Our goal is to have something that we'll be able to perpetuate, and if it's a good fit for our kids, then they have that opportunity."
"They are structured professionally," says Craig Shamp with HD Supply, "and you don't always get that in this industry. They do it the right way."
"I know there are multiple family members in the business and they still manage to function quite efficiently and effectively," echoes Greg Thompson with the Greater Dayton Construction Group. "They should get extra points for that."
The company also has profited from joining Aileron, a non-profit designed to help small business owners, located in nearby Tipp City, Ohio, started by Iams founder Clay Mathile.
"It's helping us take the next step," Brad says. "One of our partners told me that tough times make you better. We're getting repeatable systems that make sense and developing a transparency of information with our people. We want to hire good people, and let them do their job."
Equipment operations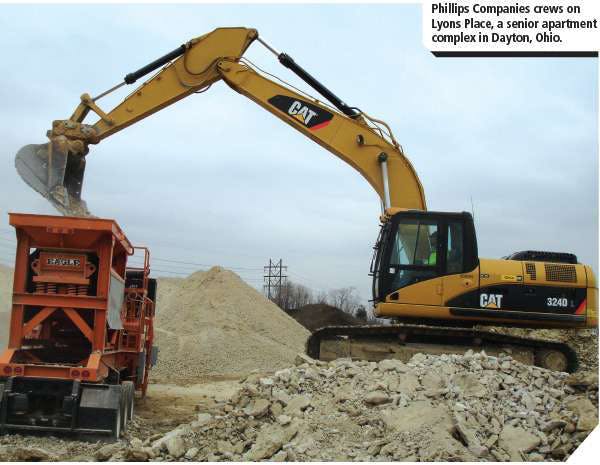 "We are currently revisiting if owning equipment is our best option," Brad says, but the seasonality of the construction business makes him pause. "It's easier to look at a paid-for piece of equipment sitting idle in your yard in January, and you haven't had to write a check for the lease payment when you haven't gotten any hours on it that month."
The company's shop performs normal equipment maintenance, and a company mechanic will make field repairs and perform fluid and lube services. The company's nine-bay garage includes a paint booth. "Our people have those skills and we like to keep our equipment looking good," Brad says.
Oil analysis is an absolute for helping the company project the life of a machine and preventing field failures. Like many firms during the recession, the company put more age on its machines, and is in the process of replacing key machines.
"Tracked excavators are the most versatile for us, it's the type of machine we get the most hours on, so we always want to own them," Brad says. His excavators top out at a 40-ton size machine. "We'll do deeper sewer lines, but we'll bench down. Our people aren't familiar with larger machines and I want them to be comfortable, especially when we're working deep." Rentals come into play for smaller or more specialized machines.
Low mod rate
With some general contractors requiring an experience modification rate below 1.00, Brad feels the company's .60 EMR has given it an advantage over companies with higher EMRs. Crew members get a $25 gift card every time the company hits its no lost time accident goals each quarter.
"We really push safety," Brad says, "and we stress getting it done right the first time, because we don't get paid to anything twice."
This safety attitude has gotten at least one client's attention. "In fact, I chose them for a job because I knew they'd do it safely, even though they weren't the low bidder," says Bob Saffin with real estate developer Miller Valentine. "The job had a very deep trench in sandy soil and I wanted somebody I could rely on."
In addition to working with the Boy Scouts ("I wasn't a part of it when my son was growing up, and I now want to support all the great things they do"), Brad has served as local Chamber of Commerce president and is on the trustees for Clark State Community College. "The average age of the students at the college is 28. The education they receive gives them an opportunity to get out of the gate," he says.
If Brad had access to his younger self, he'd advise him to take more risks. Lessons learned? "Develop relationships with customers that value your expertise," he says, "and be a partner, not a commodity."