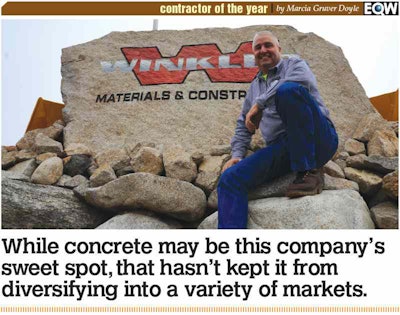 "We love to do anything that involves concrete," says Brian Winkler, 47, president of Wm. Winkler Company.
In fact, concrete has been Wm. Winkler Company's material of choice since Brian's grandfather started the firm in Spokane, Washington, in 1919. His grandfather did curb and gutter work, and Brian's father, the oldest of 11 children, joined two brothers in continuing and expanding the firm. After working several years for another contractor, Brian bought the family company from his uncle in 1999.
Brian had a clear career path when he graduated from high school: he would enroll in the U.S. Navy Seabees, and then take that experience, plus all the summers he had worked for the family construction business and go into construction. In the Seabees, he gained the rank of chief petty officer. "The order and discipline I learned there has really helped in business," he says.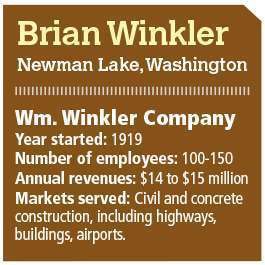 Another plus: working in the Spokane area. "This area didn't get the high peaks and valleys of other places, which has really helped," Brian says. About three years ago, the company moved from downtown Spokane to its present location in nearby Newman Lake, taking over a retiring contractor's facility and allowing them to spread out. In 2011, Wm. Winkler merged with Reed Concrete, which gave the company the ability to offer a complete Division 3 package – structural and flatwork concrete.
Although concrete work—including airports, roads, commercial and industrial development—is what Brian calls the company's "sweet spot," the firm has added several capabilities in the past decade, including grading, excavation, demolition and a recycling operation in Spokane.
During the recession, Wm. Winkler's union crews took on several out of town projects, and continue to work in several states in the Northwest. (This year it ventured into a new state for the company, and is doing place and finish work at the new Statewide Library Archives Museum in Juno, Alaska.)
"We had enough going on in different geographical areas, we did not have to lay off any key people," Brian says. "We have very loyal people and they were willing to pick up and travel. They are critical in helping us be competitive." The $14 to $15 million company employs 150 people during peak summer work.
"Brian has the most loyal guys," says Arron Allison with Macon Supply. "All of his top guys are American Concrete Institute certified; he pushes everyone to go the extra step. He would rather lose a job than not do the right thing."
For several years, Brian has participated in an American Society of Concrete Contractor's Mix Group, a peer group of around six non-competitive contractors who share best practices, visiting each other's operations to help come up with solutions for mutual problems.
The company has an active Facebook page, posting pictures of recent projects, including pouring the foundation for the world's largest wooden roller coaster at Six Flags Great America in Chicago.
Take care of your fleet
Wm. Winkler runs two shop shifts, operating from 5:30 a.m. to 9:30 p.m.
The large, well-organized shop underlines Brian's equipment philosophy: control your productivity and costs by taking care of your fleet. The company employs an equipment manager and several mechanics and runs two shop shifts that operate from 5:30 a.m. to 9:30 p.m. "I like everything to be clean, organized and ready to go," Brian says.
Heavy trucks, pickup trucks and loaders are typically bought new. "Loaders today are so much more agile, fuel efficient and offer greater operator comfort," Brian says. "Making our operators comfortable contributes to morale, and gives us a huge return."
The company uses rental equipment to get the right mix on far-flung jobs. "We might own four telehandlers, but need seven," Brian says. "We'll rent the rest." The company's over-the-road truck fleet keeps its equipment moving between jobs.
Brian also stresses communication: every week his key shop, field and office personnel meet. "That way, for example, the shop knows if a machine is critical to a job. And everyone understands why we track fuel burn per hour per unit," Brian says.
"His equipment is top drawer, it really stands out," says Leroy Zimmerman with Spokane Rock Products. "When it comes to concrete, Brian is about getting it done."
After attending this year's ConExpo and hearing the roundtable conversation during the Contractor of the Year event in Las Vegas, Brian came away with a new mission: installing GPS/machine control on one grader.
"We're see it paying off already in terms of efficiency, and achieving accuracies much more quickly – especially the tight tolerances the Federal Aviation Administration requires," Brian says. "We looked at the rate of return and what we could do if we had the technology and made the plunge. It really was no different than our usual equipment acquisition strategy."
Flip phones and iPads
Although he laughs at his continued reliance on a flip phone, Brian equips his company leadership with iPads. "They are an efficient way to complete daily job reports, including job photos," he says. "All of our safety topics are on our iPads."
The company's .7450 experience mod rate has won them numerous safety awards, the most recent from the Inland Northwest Associated General Contractors.
"I've seen contractors where nothing worked including their backup alarms," relates Matt Breen, construction manager at the Spokane International Airport. "But Brian brings a military precision to the construction site. At the end of the day, everything is lined up in a row, and they have that same discipline and rigor regarding safety. I've had a quarter century of managing contractors, and when these guys get the job, I just heave a sign of relief."
Breen says he calls Brian "Dr. Construction."
"He's very focused," Breen elaborates. "He just bleeds diesel. If I have questions about concrete or heavy civil work, he's the one I go to."