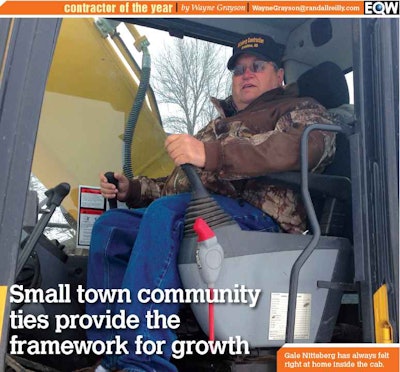 Each February, Gale Nitteberg, his wife Sandy and their grandchildren pack up and head south for about a month to escape the harsh South Dakota winter for the warm beaches of Florida.
He says years ago he and his wife talked about leaving South Dakota and maybe moving somewhere warmer, but it was never something they were serious about.
After all, Nitteberg was born and raised on the shore of Lake Poinsett near the sleepy town of Estelline. And in the 40 years since he started Nitteberg Construction, he and his community have supported one another in a special way.
After graduating high school, Nitteberg drove a truck for a company for a while before attending vocational school and becoming a mechanic for a couple of years. "Ever since I was a kid, I always enjoyed taking things apart," he says.
But he was eventually drawn to the driver's seat of heavy equipment and enjoyed working with dirt. "Part of it is the challenge, I guess," Nitteberg says. "I kind of feel like a race car driver. Once it's in their blood, it's always in there."
Getting started
In 1974 he bought a cheap used backhoe from a man in Sioux Falls. He charged 40 cents a foot, digging basements, installing water lines and local sewer lines and watched his business grow. In 1975 he began sub-contracting work for South Dakota Rural Water, an association of 28 rural water systems across the state.
Work picked up so much in 1975 that Nitteberg bought another backhoe, two trenchers and hired eight more guys.
However, the 1980s brought a trying time for company, and the locals who helped his business get started were unable to come to his aid. "The interest rate was really high," he explains. "The people with money weren't spending any. In a small community the work can dry up pretty quickly."
So Nitteberg was forced to go back to the basics and worked by himself for a couple of years to make ends meet.
The flood
But in the summer of 1986 a weeklong drenching of Estelline dropped 13 inches of rain atop the small town, flooding nearby Lake Poinsett and the many homes around it. "It was a disaster," Nitteberg remembers. "But it was probably good for me business-wise."
Nitteberg and a crew rebuilt and reinforced the shoreline. Since then, the lake has flooded twice more, and the most recent flood in 2009 was the most serious. Nitteberg has been ready to work each time.
"I hate to say it, but it really got me going again," Nitteberg says of the initial flood. "There are seven guys I hired during that time that are still with me today. And the people working for me are a big part of my success."
In the fall of 1986 a developer in Denver hired Nitteberg to assist in the construction of a new subdivision near Estelline. "That gave me a big start as far as getting bonded," Nitteberg says.
In 1987 that bonding power turned into a $250,000 job with Kingbrook Rural Water System in Arlington, South Dakota. It would be the start of a beautiful relationship for Nitteberg, who still does jobs for Rural Water systems all over the state. He says these jobs typically range between $1 million and $3.5 million.
"It's something we started doing and we built our own niche with it," he says.
"I try to keep them busy"
These days, the company has 30 employees and annual revenues between $5 million and $7 million. Nitteberg serves the rural water, city water and sewer, township roads, gravel and maintenance markets.
Nitteberg is quick to attribute his success to his employees. A dozen of them have been with him for more than 10 years. "I probably would have quit already if it wasn't for my people," he explains. "I try to keep them busy."
Even during the harsh winter months, he finds work to keep eight workers busy in the field with four more working in the shop.
And beyond keeping his employees busy, Nitteberg likes to be out in the field right alongside them.
"I enjoy working. I enjoy being around the guys. I think it's because I've worked with them for so many years right alongside them," Nitteberg says. "I think it means a lot to them to have you right there. I guess I never expected anyone else to do what I needed to do."
The bulk of his business comes from installs for rural water systems. But between 10 and 15 percent are private jobs he does for his neighbors, the people that kept him afloat and propelled him forward.
"I've worked for these people since 1974 and have a lot of repeat customers," he says. "They hardly want to let you say no to a job. You gotta take care of them no matter how small. They're the ones who make you."